GoWest Advocates are on the Hill at a Historic Time
Posted by Lynn Heider on November 15, 2023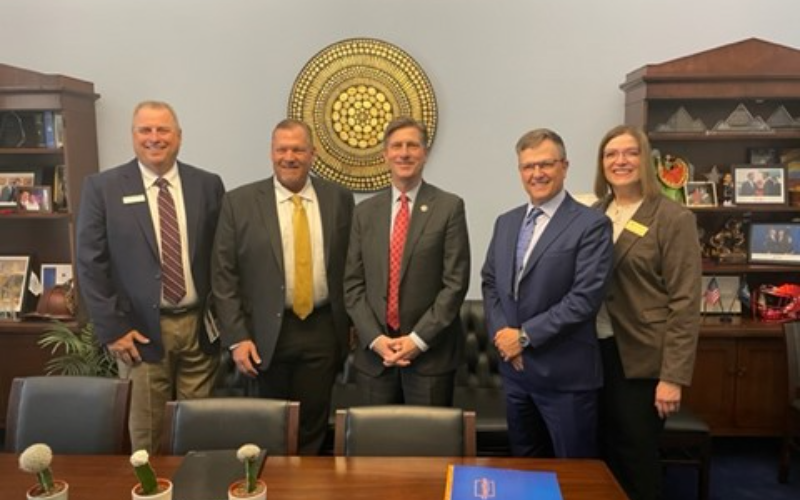 A  team of 21 GoWest credit union advocates are hard at work this week for the Fall Hike the Hill. It could not have come at a more important time. They are monitoring the hour-by-hour work of Congress to fund the government before Friday's deadline. As of Wednesday morning, the House had passed a two phased bill to fund the government through early next year, and that bill goes to the Senate.
In spite of things being so busy, elected officials still want to take the time to meet with credit unions. There is a full schedule of meetings this week with 37 Members of Congress, or their key staff. Know that priorities such as interchange, cannabis banking, data privacy, Act Modernization, and more are being discussed, and your services in the event of a government shutdown are being highlighted. Advocates are shown in this photo with Rep. Greg Stanton (AZ-4).
Some of the Fall Hike the Hill delegation will head to the NCUA Board's monthly meeting Thursday. The agency is considering a proposed budget with significant increases – 9.5% in the overall budget and 11% in the operating budget. John Trull, GoWest's VP/Legislative Advocacy, is scheduled to testify at the meeting, encouraging fiduciary prudence during this time when there are significant economic pressures on your credit union and the people you serve.
Stay tuned to Advocacy on the Move for real-time updates.
Posted in Advocacy on the Move, Arizona Advocacy, Colorado Advocacy, Federal Advocacy, Idaho Advocacy, Oregon Advocacy, Regulatory Advocacy, Washington Advocacy, Wyoming Advocacy.