The Totally Awesome CU4Kids
Auction & 80's Prom Bash
A Credit Unions for Kids Benefit
Wednesday, October 4th, 6 to 9:30 p.m.
Buy Tickets
Start perfecting your side ponies and pull out your shoulder padded jackets, hairspray, and that prom dress you swore you donated years ago cause we're turning the clock back with an 80's Prom Bash!
Do you 'Wanna Dance with Somebody'? 'Celebrate Good Times'? 'Express Yourself'? Then grab your posse and join us for a totally rad night as we raise our bid paddles in support for the 11 Children's Miracle Network Hospitals in our region.
Credit Unions for Kids (CU4Kids) a nonprofit collaboration of credit unions, chapters, associations and business partners from across the country, engaged in fundraising activities to benefit 170 Children's Miracle Network Hospitals. Adopted as our movement's charity of choice, credit unions are the 5th largest sponsor of Children's Miracle Network (CMN) Hospitals.
Regionally, the GoWest Credit Union Association is committed to hosting an annual fundraising event to benefit the 11 CMN hospitals that serve our communities. The annual auction takes place during the MAXX Convention and is championed by a volunteer auction committee comprised of credit union leaders from across the GoWest region.
We hope you will join us in carrying out this honored tradition that, over the last 40 years, has helped raise millions of life-saving dollars for kids.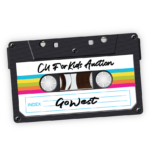 This year's dinner and auction to benefit Credit Unions for Kids will take place on Wednesday, October 4th in Spokane, WA from 6 to 9:30 p.m., during the GoWest MAXX Convention.  
Secure your ticket, tickets for two, or a table for ten. This event never fails to sell out each year! Every dollar counts and all contributions will be directed to the bidder's local CMN hospital.
If you have any questions about the event, please contact Carmen Vigil via email or phone at 206.661.8257. 

Thank You To Our Totally Awesome CU4Kids Auction & Prom Sponsors