GoWest Announces 2023-2024 Board of Directors
September 15, 2023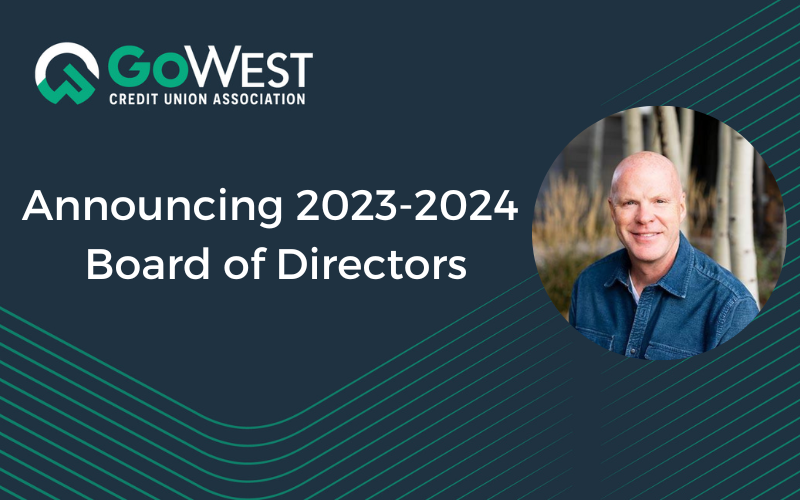 GoWest Credit Union Association, completing its first successful year as a six-state trade association, announced the 2023-2024 Board of Directors that will help to propel the Credit Union Movement forward in Arizona, Colorado, Idaho, Oregon, Washington, and Wyoming.
GoWest serves more than 300 credit unions with 16.5 million members, 33,000 employees, and $300 billion in assets.
Todd Marksberry, President and Chief Executive Officer of Lonetree, Colorado-based Canvas Credit Union, became Chair of the Board during GoWest's Annual Business Meeting last week. Marksberry praised the work of the association's board, the member credit unions, and the association's team in realizing the vision for GoWest in optimizing advocacy opportunities and helping credit unions to thrive and serve their members, employees, and communities.
"We've accomplished so much in just a short year. I'm really excited about what the future holds, and I look forward to serving as your Chair," Marksberry said. "And as we always like to say, the absolute best is yet to come."
Marksberry succeeds former Chair Jeff Adams, President and Chief Executive Officer of Horizon Credit Union in Spokane Valley, Washington.
Adams said, "Over the course of the inaugural year as GoWest, we have made huge strides in propelling the Movement forward. I couldn't be prouder, or more confident in the path that GoWest, the board, and these member credit unions are forging for the future." While he ends his term as Chair, Adams will continue to serve on the board.
GoWest President and CEO Troy Stang also lauded the hard work of the membership and board, citing a number of milestones and wins in the past 12 months, including a hyper-local advocacy model that advanced credit union priorities in all six states and a strengthened federal advocacy presence.
But it's the future that truly excites Stang.
"We remain dedicated to our bold, future-focused, and innovative approach," Stang said. "Together, with our members, we are really leaning into our purpose as influencers of policy, and social and economic issues so credit unions will continue to be pillars of strength in the communities they serve."
The 12-person Board of Directors for 2023-2024 includes:
Board Chair – Todd Marksberry, Canvas Credit Union, Lonetree, Colorado
Vice Chair – Jennifer Kutcher, Bellingham, Washington
Secretary – Jay Curtis, First Credit Union, Chandler, Arizona
Treasurer – Don Clark, Sound Credit Union, Tacoma, Washington
At-Large Executive Committee Member – Stephanie Teubner, Blue Federal Credit Union, Cheyenne, Wyoming
Jeff Adams, Horizon Credit Union, Spokane Valley, Washington
Ray Lancaster, Pyramid Federal Credit Union, Tucson, Arizona
Carol Roby, Mohave Community Federal Credit Union, Kingman, Arizona
Dan Thurman, Frontier Credit Union, Idaho Falls, Idaho
John Uchida, Space Age Federal Credit Union; Aurora, Colorado
Stacie Wyss-Schoenborn, Central Willamette Credit Union, Albany, Oregon
Jim Yates, First Education Federal Credit Union, Cheyenne, Wyoming
Stang, Adams, and Marksberry thanked the following board members who concluded their Board service in 2023:
Trisha Baker, Lewis Clark CU, Lewiston, Idaho
Larry Ellifritz, Consolidated Community CU, Portland, Oregon
Teri Robinson, Ironworkers USA CU, Portland, Oregon
Vanessa Trexel, Power CU, Pueblo, Colorado
Todd Erickson, CapEd CU, Meridian, Idaho
Gregory Mills, Aventa CU, Colorado Springs, Colorado
Posted in Arizona, Colorado, Idaho, Leadership, Oregon, Top Headlines, Washington, Wyoming.