Rising Leaders: Tray Garrett Shares His Story
Posted by Andrew Kobialka on August 15, 2023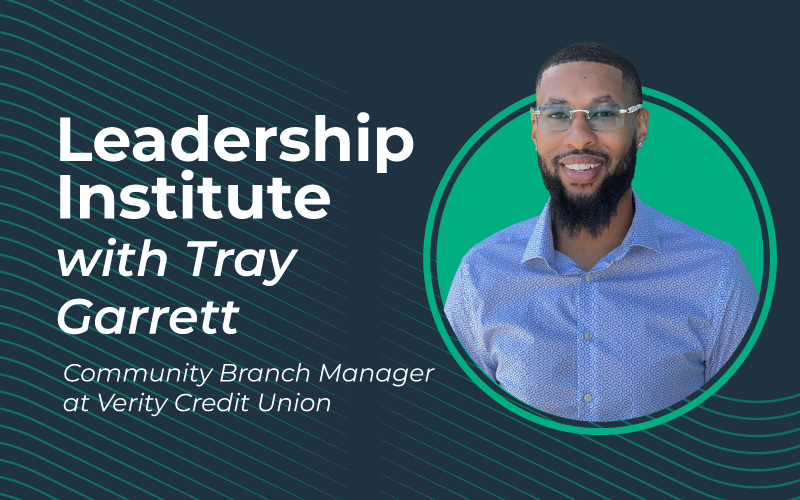 Latent potential – everyone has the ability to be and do more. The credit union community is filled with professionals who are on a journey to tap into their potential as they refine and develop their skills to become respected leaders.
Tray Garrett, from Verity Credit Union, headquartered out of Seattle, Washington, stands out among rising leaders. As a participant in GoWest's Leadership Institute, he has taken the initiative to build himself up to better serve his peers and community and has been newly promoted to branch manager during the program.
Garrett said he entered the program with the intent to make the most of it, and having that mentality made a big difference in how impactful the program has been for him.
"It was important for me to be open to new experiences and perspectives. I was willing to try new things and challenge my own thinking," said Garrett.
We asked Garrett to share a little bit about his leadership journey and takeaways from his leadership development through GoWest.
What have you learned from the Leadership Institute that you have applied at your credit union? 
·         How to have effective conversations.
·         Understanding that feedback can be a gift.
·         Leadership is a lifestyle, it needs to be practiced every day.
·         We are in control of our reactions in situations that help define who we are.
·         Most important — don't give up.
After adopting this approach to leadership, did you notice any changes in your work environment?
Yes, my subordinates and team members feel confident in my decisions. It still takes work and we will need trust to be built, which is a journey. However, I'm sticking to it.
I've also realized that the energy changes when others trust you, and you have a calm reaction in all situations.
What contributed to your promotion?  
Leadership Institute has been the foundation for my success — It's where I built leadership attributes like courage, confidence, and being willing to try and sometimes fall, but knowing I'll always get back up. Trusting my leadership development through GoWest has helped me personally and professionally and has me filled with so much optimism.
How do the relationships made in Leadership Institute impact your career?
Most of my peers are all leaders in Leadership Institute, which remind me of a quote: "You are who you hang around." The impact this had had, eventually made me become a leader "by title" even though we all have a responsibility of having leadership attributes regardless of our position.
Garrett is a new and rising leader. His mentality has enabled him to make strides toward self-improvement and he is a great example of how having the courage to invest in yourself makes a positive impact on everyone around you.
He left one final piece of advice.
"Consistency is key – it sounds so simple, but I'm realizing how the little habits we complete in our daily lives have an effect on us at all times," he said.
GoWest offers three levels of leadership development programs, each with distinct takeaways to help you reach the next level of your leadership journey, no matter where you are. You can learn more under the development tab on our website.
Posted in Idaho, Leadership, Thought Leadership, Top Headlines.