GoWest Board of Directors Election
Posted by Andrew Kobialka on March 14, 2023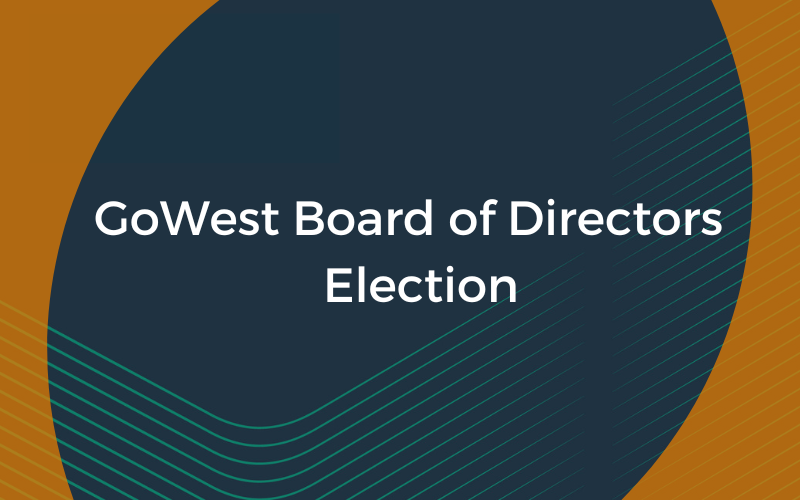 The Nominating Committee comprises of a GoWest Board Member as chair and six non-Board members. Your Association is pleased to announce that Stacie Wyss-Schoenborn, President and CEO of Central Willamette Credit Union, has agreed to Chair the Nominating Committee this year along with the following individuals:
Trisha Baker, President and CEO, Lewis Clark Credit Union
Meagan Barrett, President and CEO, Northern Colorado Credit union
Christopher Bradberry, President and CEO, Fibre Federal
Dave Krause, President and CEO, UniWyo Credit Union
Justin Olson, President and CEO, Forrit Credit Union
Robb Scott, President and CEO, Copper State Credit Union
The GoWest Board is working strategically to modernize the Board to a more manageable size post-merger integration. A number of seats were sunset by the Board on Dec. 31, 2022 and two more seats are targeted to sunset by the end of 2023.  This includes the seats that Todd Erickson, President, and CEO, CapEd Credit Union; and Greg Mills, President and CEO, Aventa Credit Union; who are both intending to serve out their current terms – therefore you will not see either of these seats addressed in this election cycle.
There are two seats up for election this year.  The incumbents are eligible and interested in re-election.  They include:
Ray Lancaster, President and CEO, Pyramid Federal Credit Union
Stephanie Teubner, President and CEO, Blue Federal Credit Union
The GoWest Board of Directors is comprised of At-Large Directors elected from Regular Member credit unions. The GoWest at-large governance model allows the most qualified candidates to seek election to the Board. For eligibility, job description, and qualifications click here.
Amanda Guyton, Executive Assistant to the President and CEO, is this year's GoWest Election Secretary.
Nominations are being accepted now through 5:00 p.m. PT on March 31. Qualified and interested candidates, please visit the Director Candidate Profile Form to submit your nomination.
Executives and Senior Leadership – Have you heard of Executive Ready? It's GoWest's signature six-month leadership development program that gives emerging executive leaders a strategic roadmap to build high-performing, connected, and innovative teams. And there's an opportunity to go tuition-free! Find out more.
Posted in GoWest Association, Leadership, News Releases, Public Awareness, Top Headlines.