Congratulations to the three Credit Union House Hall of Leaders Inductees 
Posted by Andrew Kobialka on March 7, 2023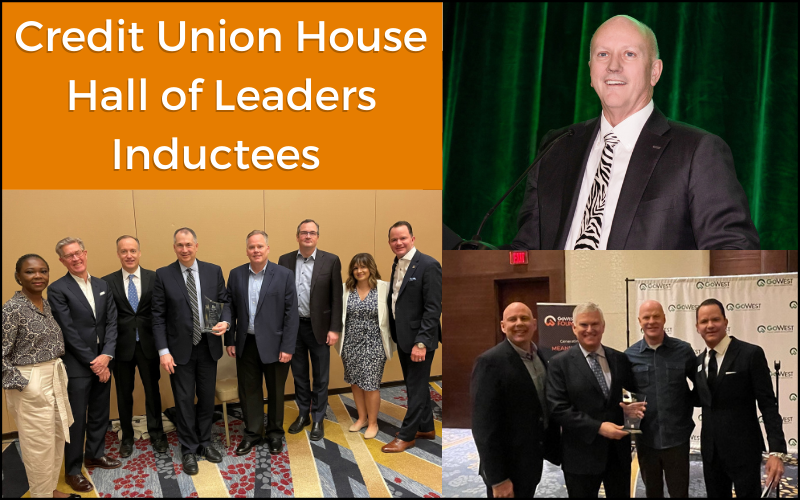 Three credit union leaders from the GoWest region have been inducted into the Credit Union House Hall of Leaders. They are among 23 individuals nationwide who were honored by Credit Union House LLC for their significant contributions to the credit union movement. The inductions were made in a ceremony during CUNA's Governmental Affairs Conference in Washington, D.C. The Credit Union House Hall of Leaders provides lasting recognition for credit union leaders whose commitment has made a significant impact on the credit union movement at the local, state, or national level. 
Kent Oram retired in December, 2022, as CEO of Idaho Central Credit Union after 38 years with the organization. Greg Mitchell is President & CEO of First Tech Federal Credit Union, the nation's eighth largest credit union has branches throughout California, Oregon, and Washington. Benson Porter, recently retired as President and CEO of BECU, the largest community-based credit union in the nation.  
"These three inductees from the region exemplify everything we love about credit unions," said Troy Stang, president/CEO of GoWest Credit Union Association. "Kent Oram invested in his employees by creating a positive workplace culture that encourages and empowers employees to better serve the members and communities. Greg Mitchell urges everyone around him to shoot for the stars, while demonstrating authentic and servant leadership. And, under Benson Porter's leadership, BECU tripled its assets while developing a nationally renowned culture of inclusiveness and community service."  
Their names will be permanently displayed at Credit Union House, a special events venue on Capitol Hill that exists to meet the needs of the members of the credit union community while they are in Washington, D.C.  
Additionally, Stang was re-elected to the Credit Union House Board of Directors and will serve as Vice Chairman of the Board.  
About GoWest's Inductees: 
Kent Oram
Kent Oram personifies both servant and thought leadership and has been an exemplary Credit Union Movement enthusiast for nearly four decades. He retired from his position as president & CEO in December, 2022. A native Idahoan, Kent joined the Idaho Central Credit Union team in 1984 and had worked his way up to the position of president and CEO by 2007. During that time the credit union experienced exponential growth as Idahoans wanted to be a part of what he and his team were building. The workforce grew from 249 team members to 1,700, memberships grew from just under 68,000 to 516,538, the branch network that serves those members expanded from 18 to 46 locations, and assets increased from $613 million to $8.7 billion – making Idaho Central Credit Union the Gem State's largest financial institution and one of the country's fastest-growing credit unions. Idaho Central has been recognized as the Best Place to Work in Idaho seven times over the last ten years. He says that it has been the "professional honor of my life" to lead Idaho Central's "Green Team." 
Greg Mitchell
When Greg Mitchell became President & CEO of First Tech Federal Credit Union, he brought with him nearly 20 years of experience in the financial industry, from investment banking and asset management to the presidency of two large California banks.  Greg leaned in immediately, collaborating with other credit unions to ensure that financial cooperatives have a major voice at the table.  He is tenacious in finding solutions, advocating, and innovating to keep credit unions relevant. First Tech FCU is a $17+ billion institution with more than 720,000 members, the nation's eighth largest credit union has branches throughout California, Oregon, and Washington. Growth has come with extraordinary attention to member needs:  First Tech recently ranked in the top 4 of 50 banking institutions in an American Banker-sponsored survey of more than 5,000 consumers. This ranking recognizes institutions that deliver "the best humanized experience." First Tech also was awarded this year a Top Workplaces USA national honor, based on employee feedback to a survey measuring aspects of workplace culture. 
Benson Porter
Benson Porter has been a thought leader in the financial services industry for more than 35 years. For the past decade, he served as president & CEO of BECU, helping to accelerate its growth in membership and assets and to further develop its nationally renowned culture of inclusiveness and community service. Today, BECU is the largest community-based credit union in the nation. When Benson took the helm as CEO, he saw no end to the potential to build on the legacy of an already stalwart financial institution. On his watch, assets tripled to over $30 billion. As the economy faced its challenges, consumers increasingly turned to BECU as an organization they could trust, and membership grew from 800,000 to over 1.2 million. 
During this time, BECU continued to prioritize giveback to members through better interest rates, lower fees, and repriced loan interest rates for members with strong payment records. The People Helping People Awards program was launched during Benson's tenure as CEO and has dedicated more than $3 million in grant funding to member-nominated community organizations since 2013. 
Congratulations to the inductees and sincere thanks for their dedication and service to the credit union movement.
Posted in In The News, Leadership, Public Awareness, Top Headlines.