WY Governor Gordon Releases Biennium Budget
Posted by Bobbie Frank on November 21, 2023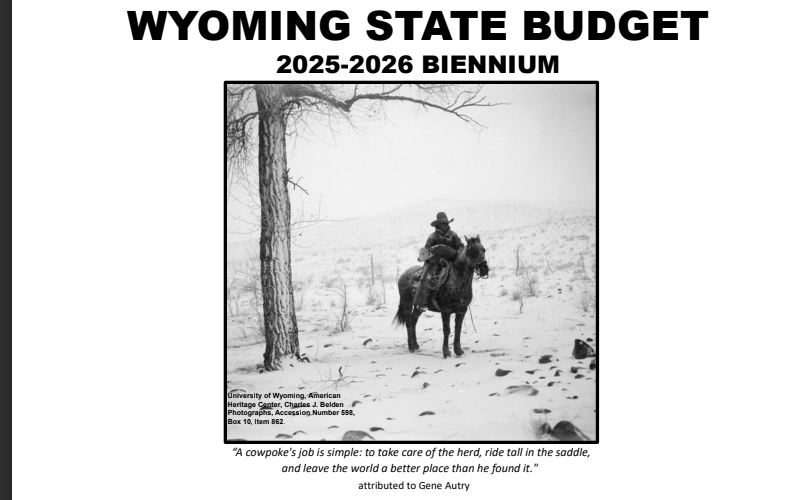 As constitutionally required, Wyoming Governor Mark Gordon released his proposed balanced 2025-2026 biennium budget on November 17.  The Governor, in his budget message, describes the proposal as disciplined, businesslike, and forward-thinking. He indicates the budget focuses on needs and not wants but addresses the pressing challenges of today.
The budget includes:
$25 million in matched State Revolving Funds for critical infrastructure and $40 in Wyoming Business Council Business Ready Communities grants to address housing shortages.
Adding $265 million in the Permanent Mineral Trust Fund, increasing the rainy-day fund to $1.6 billion.
Adding $265 million to the Common School Permanent Land Fund.
Leaving $48.9 million available to the legislature to determine savings or investments.
Adding $20 million to the Department of Revenue to provide property tax relief.
Adding $1 million to the Federal Natural Resources Planning Account to enable the state to defend its interests in federal land management planning and regulatory impacts.
$30 million for the Wyoming Innovative Partnership to develop new programs to train highly skilled workers and significant investments in the Wyoming Department of Workforce Services and $1.7 million for WyRelocate technology to recruit workers to Wyoming.
$330 million back to general fund standard budgets replacing federal funds, including for the Department of Corrections, The Department of Health, and Investment in Nursing program.
The Governor also emphasized the importance of continuing to address the mental health issues and suicide rate plaguing the state.
The Joint Appropriations Committee will begin its work on the budget December 12.
Posted in Advocacy on the Move, Wyoming Advocacy.