OnPoint Community Credit Union Employees Direct More Than $100,000 to Oregon and Southwest Washington Nonprofits
September 26, 2023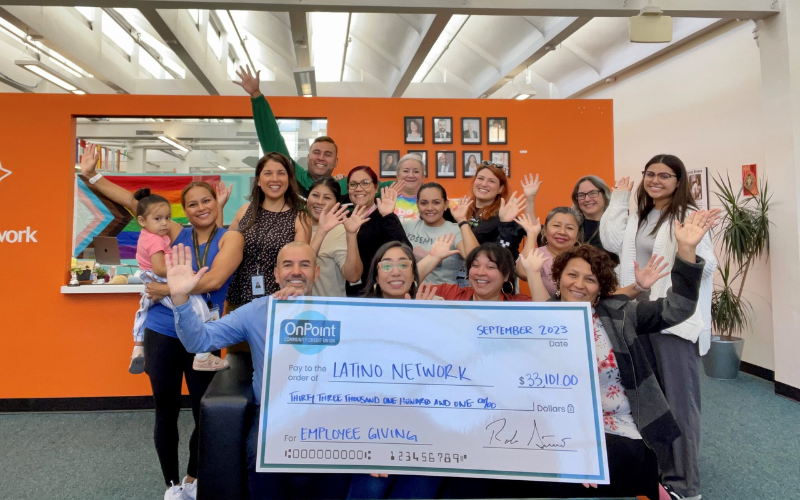 OnPoint Community Credit Union, based in Portland, Oregon, has donated a total of $105,603 directed to Latino Network, FACT Oregon, and Rebuilding Together Portland.
The donations were made as part of the credit union's seventh annual employee giving campaign.
Each year, OnPoint provides every employee with $100 to split however they wish between three nonprofits making a difference in the community. This year's campaign resulted in donations of $33,101 to Latino Network, $34,951 to FACT Oregon, and $37,551 to Rebuilding Together Portland.
To expand its impact across the region, OnPoint divided another $25,000 among five regional nonprofits: Community Outreach through Radical Empowerment (Eugene), Yamhill Enrichment Society (McMinnville), Saving Grace (Central Oregon),  Creating Opportunities (Salem), and The Giving Closet (Southwest Washington).
"OnPoint has worked to improve the lives of the people in our community for over 90 years," said Rob Stuart, President and Chief Executive Officer of OnPoint Community Credit Union. "Supporting organizations that share similar values is something we pride ourselves in. We are honored to support Latino Network, FACT Oregon, and Rebuild Together Portland and thank them for all they do for our neighbors."
OnPoint employees have donated more than $600,000 to 23 local non-profits since the annual campaign began in 2017. Past recipients have included NAYA (Native American Youth and Family Center), Hacienda CDC, and the Oregon Zoo.
About this year's recipients
Latino Network was founded in 1996 to advocate for the needs of the growing Latino community in Multnomah County. Latino Network addresses issues like low achievement scores, youth violence, and high dropout rates by promoting early literacy, encouraging parent involvement, working with gang-involved and adjudicated youth and families, and providing academic support and activities to high school-aged youth. It also builds leadership capacity for youth and adults.
"Our staff and board at Latino Network are extremely grateful for the trusted partnership we have with the team at OnPoint Community Credit Union," said Juan Martinez, Director of Philanthropy at Latino Network. "They understand that the growing Latine community continues to face barriers to access to healthcare, education, and affordable housing. OnPoint's generous support and investment to ensure a thriving Latine community is key to a brighter future for a better Oregon."
FACT Oregon is a parent-led organization that strives for disability equity, empowering families and youth navigating disability to access and advocate for the supports and opportunities they need to thrive at home, in school, and in the community. Peer-delivered services include a Support Line, training, resources, technical assistance, community engagement, and advocacy. Since 2012, FACT Oregon has served as Oregon's Parent Training and Information Center for Special Education.
"Families navigating disability are hungry for support, resources, and action to improve opportunities and outcomes for people with disabilities," said Christy Reese, Executive Director of FACT Oregon. "We are thrilled to have the support of partners like OnPoint to help us serve families, youth, and partners across Oregon, bring family voices to decision-making tables, and further equity in our schools and communities."
Rebuilding Together Portland has helped provide critical home repairs, modifications, and improvements for low-income homeowners for more than 30 years. The organization focuses on assisting the elderly, people with disabilities, families with children, and veterans at no cost to those served. Its work includes carpentry, electrical, painting, plumbing, flooring, home safety modifications (such as ADA and handrails or wheelchair ramps), debris removal, and more.
"An estimated 30,000 Portland homeowners live at or below the poverty line," said Stephanie Luyties, Executive Director of Rebuilding Together PDX. "The work we do at Rebuilding Together PDX significantly improves the lives of dozens of Portland homeowners each year, a number we're working to expand with the generosity of our local community partners such as OnPoint."
Posted in Oregon, Regional Member News.