Wyoming Leadership Institute Graduates Celebrated
Posted by Bobbie Frank on September 8, 2023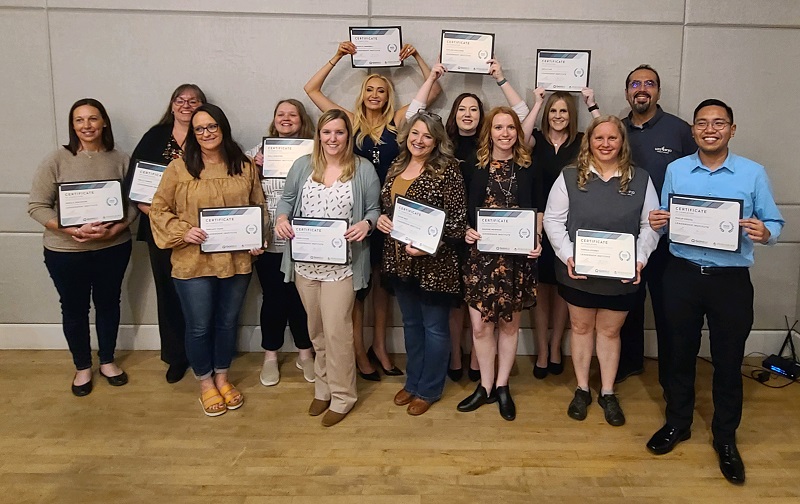 Wyoming credit union leaders were celebrated during the graduation ceremony for the GoWest Leadership Institute Wyoming cohort September 7 in Cheyenne. Layna Officer, Director, CU Leadership & Talent Development opened the session congratulating the participants for their commitment to personal and professional development through the intense 7-month course taught by Peregrine Global Services.
Advocacy team members Chris Kemm, AVP Political Engagement and Bobbie Frank, VP for Legislative Affairs, Wyoming also addressed attendees. Kemm shared his history in developing into a leader in the credit union movement including the importance of learning from those experiences that go wrong as well as those that go right. Frank offered examples of where the graduates could continue to expand their leadership influence in the advocacy arena including staying informed through the Advocacy blog, serving as a key contact, participation in the Day at the Capitol event and contributing to the political action committee to support credit union champions in the 2024 election.
Graduates included:  Dodie Box – Atlantic City FCU, Maddie Newman, Philip Fiesta, Taylor Holcomb, Kayla Vye – Blue FCU
Kelli Dockter, Stagepoint FCU, Shelley Yoak, Sheila Erickson, Jessica Campbell – Trona Valley FCU, Tarsha Storey, Robert Trevizo – UniWyo CU, Kelly Davis, Heidi Culek – WyHy FCU
Congratulations to all!
Posted in Advocacy on the Move, Wyoming Advocacy.