8 GoWest Credit Unions Win 2023 CUNA Awards
Posted by Andrew Kobialka on September 5, 2023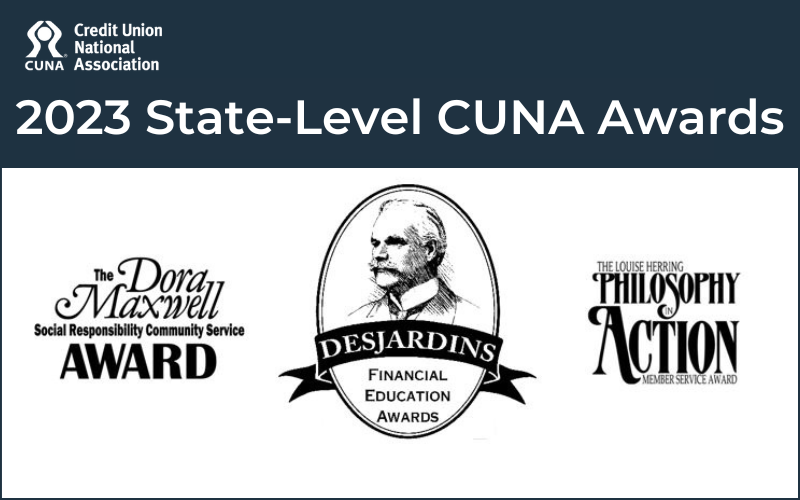 "People Helping People" is the philosophy that unites the Credit Union Movement.
Through the years, countless members across the country have personally been affected by the unique not-for-profit cooperatives as they partner with communities to fill local needs through donations, charitable events, volunteering, and of course, life-empowering financial services.
The annual CUNA Awards reflect and celebrate the astounding accomplishments of credit unions in the areas of member service, community impact, and financial education.
GoWest is honored to shine a light on this year's state-level CUNA Awards winners from across the GoWest region and their incredible achievements.
"Credit unions listen to their communities, bringing timely and relevant opportunities to their members – it's an honor to partner alongside them," said Christine Ruzzi, GoWest's VP of Member Impact. "Congratulations to this year's winners!"
Desjardins Adult and Youth Financial Education Awards
This award honors leadership within the Credit Union Movement on behalf of youth and adult financial literacy.
Canopy C

redit Union, 

Spokane,

Washington

 ($50-$250 million in assets category) —

In 2022,

Canopy

tune

d

into the needs of those in its community without

 easy access to financial education

.

Canopy

p

rovid

ed

201 financial coaching sessions

available to all

m

embers

the community. They also

conducted

86 financial education workshops in partnerships with schools

and

non

profits

– offering

translat

ions

in multiple languages

–

and hosted

m

onthly

workshops

t

o

serve

students going through the Spokane County Juvenile Court.

 
Dora Maxwell Social Responsibility Community Service Awards
These awards honor credit unions for community impact programs.
C

olorado

Credit Union, of

Littleton

,

Colorado

($250 million-$1 billion in assets category) — 

In partnership with Hands of the Carpenter, a Denver-area nonprofit, Colorado Credit Union focused on helping single moms without reliable

transportation

and who do not meet the traditional requirements for reasonable financing options

.

The

develop

ment

of an internal program specifically for these women bypassed typ

ical

credit parameters and capp

ed

interest rates enabling affordable monthly

payments

. Since January 2022, it ha

s resulted in

8

loans

and the credit union

plan

s

to expand this program to more women moving forward. 

Frontier

Credit Union,

 

Idaho Falls, Idaho ($250 million-$1 billion in assets category) — 

After

36 year

s of

commitment to

providing

reliable footwear to children

in need

, Frontier Credit Union has

exp

a

nded its ability to serve

its community b

y

establishing

a 501

(c)3

. The new designation

allow

s

it to meet a

wider ran

ge

of needs

for

the

children

of Idaho

.

Last year

,

Frontier raised over $49,000

through its

charitable foundation golf tournament

,

lemonade stands for Idaho Foster and Adoptive Parent Association

, and

its

Coins for Christmas fundraiser

!

More than ever, Frontier

is

reach

ing

more children in need, providing them with essential items and shoes that enhance their quality of life

.

Unitus

Community

Credit Union, 

Portland

,

Oregon

(more than 

$1 billion in assets category) 

–

Today,

1

 in 5 people face hunger in rural,

urban

,

and suburban communities throughout

Oregon

.

So

when

AWARE's

local

food bank f

a

cility

was destroyed

du

e to arson

,

 

U

nitus

to

ok

action

.

A

n

initial

donation

of $

52,000 helped fund the rebuilding of the food bank and the hiring of a

Farmworker Program Coordinator

.

During 2022, the coordinator increase

d

its mobile pantry outreach from 4 to 7 locations and

distributions from once a week to twice a week. Furthermore, AWARE

provided

more than 2,500 food boxes to individuals living in farmworker housing communities

, and the new food bank facility is expected to open later this year.

Hughes F

ederal Credit

U

nion, 

Tucson

,

Arizo

n

a 

(more than 

$1 billion in assets category) 

– 

Commemorating its 70th anniversary with 70 Acts of Kindness, the campaign focused on giving back to the people and organizations that make Southern Arizona a better place to live. Acts ranged from the creation of a new sensory program to volunteering to help build homes for Habitat for Humanity to giving gift cards to teachers. The campaign also had a financial literacy component – teaching and empowering community members of all ages. Hughes exceeded its goal of 70 Acts of Kindness by performing a total of 104 Acts of Kindness and donating over $150,000.

BECU, Tukwila

,

Washington 

(more than 

$1 billion in assets category) 

– 

1,400

BECU

employees make up

10 Employee Resource Group

s

where

employees who have common interests

or

issues,

come together to support each other, build community, share concerns, and

identify

solutions to further the mission, vision, and values of BECU.

Additionally, each ERG must partner with three to five local nonprofits. In 2022, ERGs had 837 recorded volunteer hours and over 70 ERG community events with non-profit

s.

 

Westerra C

redit Union, Denver, Colorado 

(more than 

$1 billion in assets category) 

–

Westerra Cares, the credit union's community-focused initiative, offers a comprehensive approach to supporting education, financial literacy, and basic needs, including mental health. Its key milestones include over $660,000 contributed to support education, disaster relief, community support, and Diversity, Equity, and Inclusion initiatives; 79% of the workforce involved in community service in 2022, amounting to 249 unique employees participating in volunteer activities and 1,232 volunteer hours donated through the Volunteer Time Off program and over $956,000 saved by members through the permanent waiving of overdraft fees.
Louise Herring Philosophy-in-Action Member Service Awards
The Louise Herring Award recognizes credit union efforts to improve members' lives through outreach programs.
Unitus

Community

Credit Union, 

Portland

,

Oregon

(more than 

$1 billion in assets category) 

–

Unitus is committed to inclusive financial practices and has taken steps to remove barriers to provide access and opportunity to individuals who have been historically underserved by the financial industry. By earning the Juntos Avanzamos designation from Inclusiv, Unitus has proven to be diligently serving and empowering Hispanic and immigrant consumers – evident by its nearly 32% increase in Hispanic membership. The credit union has additionally served the Hispanic community by:

193 ITIN loans with $12 million in funding
51 Spanish-speaking employees
21 financial education classes in Spanish, reaching 193 students
30% of annual giving funds, amounting to over $74,000, were dedicated to communities of color
Congratulations to all GoWest member credit unions on these well-deserved CUNA Awards! We look forward to celebrating even more of credit unions' achievements at the GoWest Awards Dinner & Gala, Oct. 5, in Spokane, Washington, during MAXX 2023.
Register to attend here!
Posted in Top Headlines.