Credit Unions Rush to Assist Employees, Members Affected by Fires in Washington State
Posted by Jennifer Johnson on August 22, 2023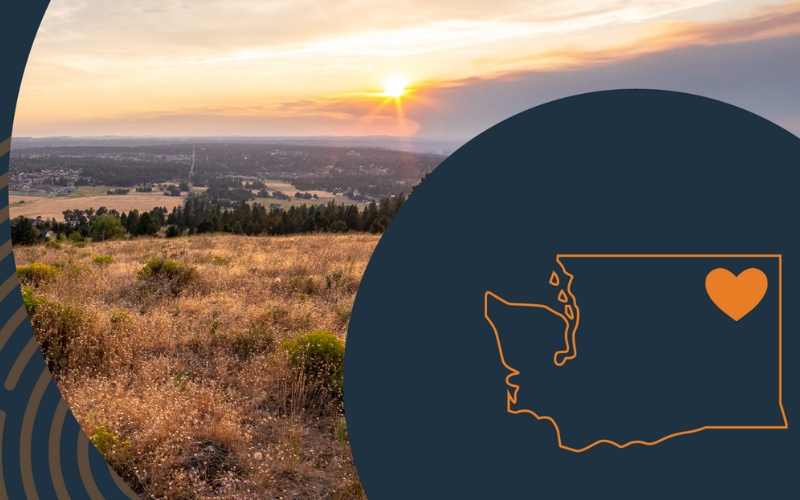 Credit unions and associated organizations initiated a rapid response to victims of devastating fires in eastern Washington state.
Since Friday, one person has died and more than 10,000 acres have burned due to the Gray fire, the largest of the blazes located about 16 miles southwest of Spokane near Medical Lake. At least 185 structures were damaged or destroyed by the flames, which led to the evacuation of nearby communities and an interstate closure.
The Oregon Road fire, located in North Spokane County, has burned at least 10,000 acres. At least four other fires have been reported in the state.
Credit unions have been fielding calls for help from members and employees who had to evacuate immediately. Cheney Federal Credit Union, whose membership is in Medical Lake and Cheney, closed its branch to prohibit employees from working in a Level 3 evacuation zone.
"We had members lose homes and need new debit cards because they lost everything," said JoAn Sanders, CEO of Cheney FCU.  "They had five minutes to grab their belongings."
Responders Emergency Services Credit Union, based in Spokane, delivered supplies to the front line until midnight on Friday because it was worried about the firefighters, said Joyce Lockard, president and CEO.
Credit unions near the affected areas have been working with local organizations to identify housing for residents and their pets, how to offset members' future car payments, and provide more immediate needs like food.
Spokane Valley-based Numerica Credit Union activated its emergency loan program while Gesa Credit Union, based in Richland, heard from members Saturday who lost their homes and initiated its emergency loans. Gesa is also working with members and local organizations for other ways to provide assistance.
Spokane-based STCU's Here for Good Foundation contributed $50,000 toward local communities and encourages donations. All donations are tax-deductible and administered through local nonprofit organizations to support recovery efforts.
"The various fires impacting our region are devasting to watch unfold," said Marty Dickinson, STCU's chief marketing officer. "The Here for Good Foundation was established to help respond to critical needs in the communities we serve. Seven months after our Foundation's launch, we are mobilized and ready to make good on that promise."
The GoWest Foundation is offering disaster relief to credit union employees or volunteers through small-dollar grants that cover a variety of needs not often covered by insurance, such as unexpected power loss and temporary displacement. In addition, the Foundation is working with Spokane-area credit unions to help navigate cash flow concerns and identify how government and federal assistance can help.
Donate to the Foundation's disaster relief fund to extend a lifeline to affected eastern Washington credit unions, their employees, and volunteers.
GoWest understands the gravity of this situation. Find more information and resources for your credit union here.
Posted in Public Awareness, Top Headlines, Washington.