Wyoming, Colorado Credit Unions Welcome NCUA Board Member Rodney Hood
August 15, 2023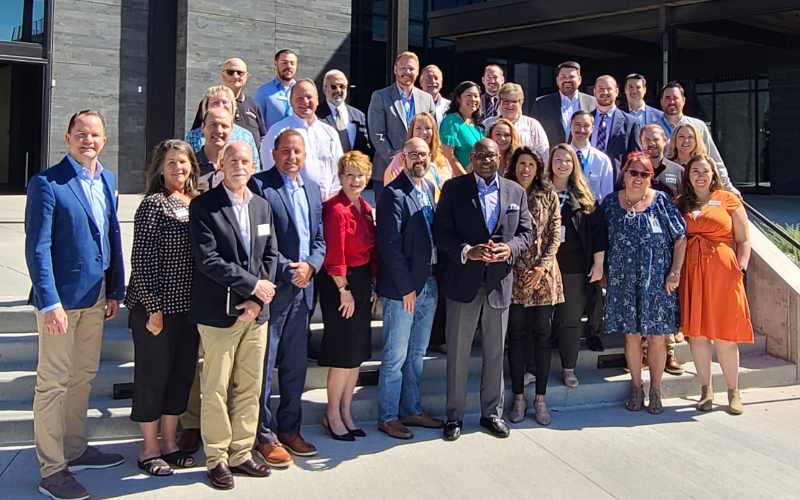 When National Credit Union Association Board Member Rodney Hood met with GoWest Credit Union Association attendees at the CUNA Governmental Affairs Conference last spring, he made one promise: he would accept an invitation from Blue Federal Credit Union's Chief Credit and Risk Officer Jason Buchanan to personally visit the region.
Hood made good on the promise. On Aug. 7, Wyoming and Colorado credit unions welcomed him for an engaging thought leadership discussion.
Hosted at Blue FCU's headquarters in Cheyenne, Wyoming, the meeting focused on several key themes, including liquidity, interest rate risk, cybersecurity, and opportunities the Central Lending Facility can provide for small credit unions. The stable health of the National Share Insurance Fund was also discussed, with parity on coverage limits being an important priority advocated for.
"It was an honor to host Rodney Hood in the GoWest region," said the association's President and CEO Troy Stang. "We appreciate him for coming to see firsthand how the region's credit unions are focusing on the priorities of serving their members, and to learn more about his vision for the future of the Credit Union Movement."
Kim Withers, CEO of Meridian Trust FCU, praised Hood's wisdom and keen insight.
"When we come together in these types of settings, we can really blend mind and might to serve consumers and ensure the continued health of our industry."
Hood has served on the NCUA board of directors since March 2019. Just a month later, he was sworn in as chairman of the board and served in that capacity until 2021. He is currently in his second stint with the board; he served from November 2005 through August 2009. Hood is also currently serving as chair of NeighborWorks America, one of the nation's leading affordable housing and community development organizations – priorities that are shared by credit unions.
"I am incredibly optimistic for the credit union industry," said Hood after his visit, "because in both of my terms on the NCUA board, I have seen how remarkably supple and resilient the credit union industry is when it comes to identifying and responding to new challenges."
For Blue FCU's Buchanan, the fact that Hood kept a promise made on a handshake earlier this year "reflects integrity from the top of our industry."
"For Wyoming credit unions, I think it means that our regulator is closer to us than the distance between Wyoming and Washington," Buchanan said. "He came and spoke without a script and talked about the people of Wyoming and the loans we as credit unions have made for them to buy homes and the vehicles that help them get to work. It felt like he is here for us. In an industry that is about people helping people, I think that went a long way for Wyoming's credit unions."
Bobbie Frank, GoWest's vice president of legislative affairs for Wyoming, briefed attendees on the commitment advocates made participating in the State Issues Working Group and the Governmental Affairs Committee to help determine which legislative and regulatory priorities can help credit unions best serve their members.
"Advocacy is a process everyone can and should be part of to make credit unions stronger. That's what helps them to be the resilient financial institutions that Hood talks about in sharing his vision," said Frank.
Editor's note: Special thanks to Blue FCU for hosting the meeting with Hood and to the following credit unions for their participation — Canvas, First Education FCU, Meridian Trust FCU, Minnequa Works, UniWyo, and WyHy FCU.
Posted in Colorado, Top Headlines, Wyoming.