Sooper Credit Union Shows Continued Commitment to Porter-Billups Leadership Academy
August 9, 2023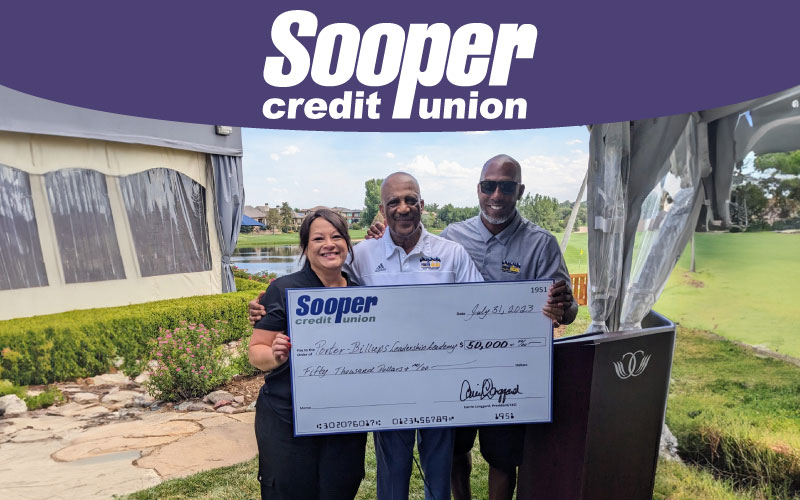 Sooper Credit Union, based in Arvada, Colorado, recently showed its continued support of the Porter-Billups Leadership Academy (PBLA) with a $50,000 donation presented at the 2023 PBLA Annual Charity Golf Tournament.
The Porter-Billups Leadership Academy was founded in 1996 by then-Regis University men's basketball head coach Lonnie Porter and his daughter, Staci Porter-Bentley, to provide academic and leadership training to Denver's at-risk inner-city youth. The organization gained the support of NBA star Chauncy Billups in 2006 to act as a positive role model and promote individual values, academic excellence, and leadership skills.
PBLA currently serves more than 225 students in grades 4 through 12 with 99.5% of students graduating high school on time. 81% of PBLA graduates continue their education in college.
"The Porter-Billups Leadership Academy is a one-of-a-kind program. Lonnie Porter, Staci Porter-Bentley, and Chauncey Billups have dedicated so much to this academy, and it's amazing to see the impact they have made on the lives of so many remarkable kids," says Carrie Langgard, president and CEO of Sooper Credit Union and PBLA associate board member. "We have a personal investment in our communities, and we couldn't think of a better way to reach out to our youth than by supporting a program that prepares them for success."
Sooper Credit Union is dedicated to supporting the communities it serves and empowering students throughout their academic careers. The credit union, in partnership with Arrupe Jesuit High School, a college prep school serving economically disadvantaged students from Denver's at-risk neighborhoods, provides intern opportunities as part of its Corporate Work-Study program. Additionally, Sooper Credit Union and the SCU Community Foundation positively impact the financial well-being of the community through volunteerism and the support of more than $200,000 in sponsorships, donations, and scholarships.
Posted in Colorado, Regional Member News.