Northwest Credit Unions Raise More Than $1.5 Million to Support Children's Hospitals
August 3, 2023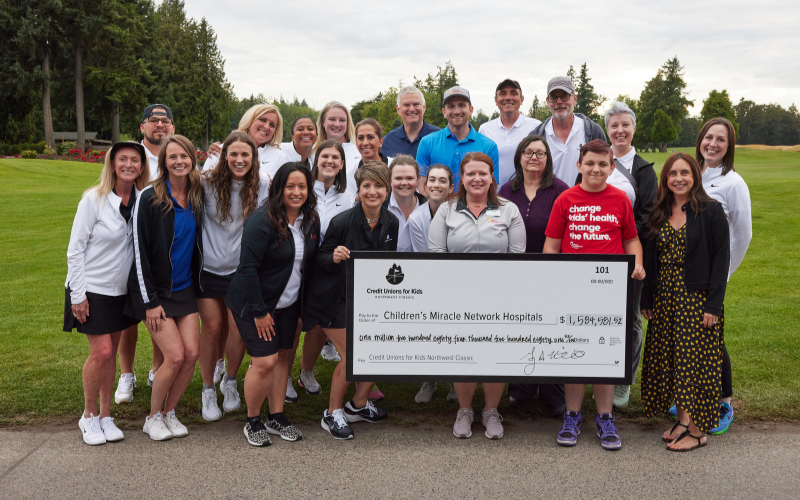 In partnership with 13 other Northwest credit unions, First Tech Federal Credit Union, based in Hillsboro, Oregon, recently helped raise more than $1.5 million in support of Children's Miracle Network Hospitals (CMN).
The 13 credit unions include Advantis Credit Union, BECU, Canvas Credit Union, Columbia Credit Union, Fibre Federal Credit Union, InRoads Credit Union, iQ Credit Union, Mint Valley Federal Credit Union, OnPoint Community Credit Union, OCCU | Oregon Community Credit Union, Red Canoe Credit Union, Rivermark Community Credit Union, and Unitus Community Credit Union.
This work was made possible through the annual Credit Unions for Kids fundraising campaign, where First Tech employees and members, credit union partners, business leaders from across the country, and community partners gave their time and funds to support children and their families.
The Credit Unions for Kids Northwest Classic tournament remains one of the largest credit union-sponsored events supporting CMN Hospitals and continues to successfully unite fellow philanthropic credit unions around a single goal.
The campaign centers on driving awareness and funding through member and employee efforts and culminates each year in the Northwest Classic Tournament, bringing together sponsors, players, vendors, and volunteers for a day of golf, fun, and fundraising for CMN Hospitals. Since the fundraising event's inception 23 years ago, First Tech and other Northwest credit unions have raised over $13.7 million to support regional hospitals and the health of children from all backgrounds.
"All of us have people in our lives who have been impacted by illness or who have needed life-giving care provided by Children's Miracle Network Hospitals. The collective work that First Tech, our credit union partners, and our larger community has done through Credit Unions for Kids has provided hope and a future to families who might otherwise have none," said First Tech Federal Credit Union President and CEO Greg Mitchell. "Thank you to our credit union community, partners, members, and employees who have truly exemplified the credit union difference of people helping people through this success. I'm so incredibly proud."
CMN Hospital partners are distinguished for their innovative contributions toward pediatric cancer research, treatments, rehabilitation, and exceptional care for patients and families. Beneficiaries include:
Seattle Children's Hospital (Seattle, Washington)
OHSU Doernbecher Children's Hospital (Portland, Oregon)
PeaceHealth Sacred Heart Children's Hospital – Riverbend (Springfield, Oregon)
UC Davis Children's Hospital (Sacramento, California)
UCSF Benioff Children's Hospital – Oakland (Oakland, California)
Children's Hospital Colorado (Aurora, Colorado)
The success of this year's campaign was made possible through the participation and support of many organizations, including generous credit union partners from not just the northwest, but from across the country, including:
Alliant Credit Union
Community Financial Credit Union
First Entertainment Credit Union
Patelco Credit Union
Premier America Credit Union
Stanford Federal Credit Union
Teachers Federal Credit Union
Posted in Colorado, Oregon, Regional Member News, Washington.