Origence Hosts Economic and Lending Webcast with Elliot Eisenberg
July 25, 2023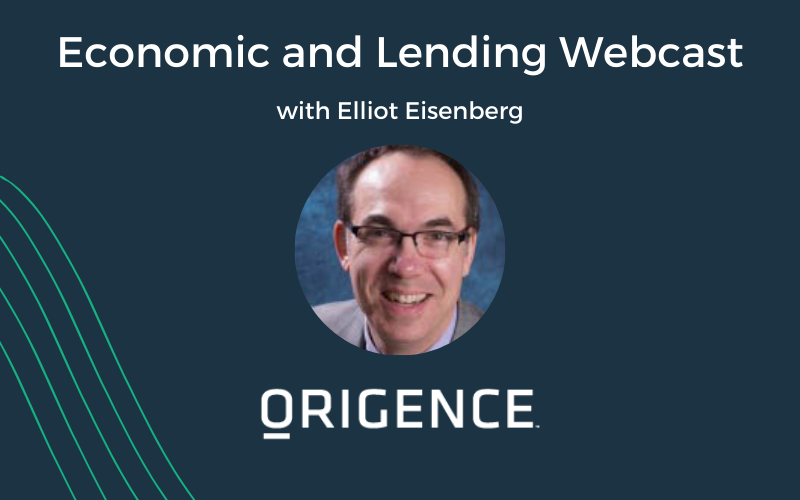 Origence, the lending technology solutions provider for credit unions, is hosting a free webcast entitled "The US Economy: Rising Rates, Real Risks, and Recession?" with special guest speaker economist Elliot Eisenberg on July 27 at time 11 a.m. PT.
With 2023 Q2 GDP looking surprisingly strong at about two percent, and consumer spending holding up due to a combination of pent-up demand for services and excess COVID savings suggests that the remaining of 2023 should be good. However, inflation, particularly core inflation, continues to remain high. In this session, Eisenberg dives into what is expected for the rest of 2023 and beyond.
Eisenberg's session will include:
GDP updates
Inflation
Rising interest rates
The potential to avoid recession
Lending implications
"We are excited to make the knowledge and expertise of Elliot Eisenberg available to credit unions across the country once again," said Neetu Bhagat, chief financial officer at Origence. "Elliot shares a great deal of information that is helpful in guiding institutions during these complex times. Our hope is to stimulate conversations, empower credit unions with a deeper understanding and inspire innovative approaches to the economic challenges we face today."
Credit unions can join us for this free webcast by registering here.
About Elliot Eisenberg
Elliot Eisenberg, Ph.D. is an internationally acclaimed economist and public speaker specializing in making the arcana and minutiae of economics fun, relevant and educational. A former senior economist with the National Association of Home Builders in Washington, D.C., Eisenberg is the creator of the multifamily stock index (the first nationally recognized index to track the total return of public firms principally involved in the ownership and management of apartments), serves on the Expert Advisory Board of Mortgage Market Guide and is a regular consultant to several large real estate professional associations, hedge funds, and investment advisory groups. His research and opinions have been featured in Bloomberg, Business Week, Bureau of National Affairs, Forbes, Fortune, and many other publications. He is a regularly featured guest on cable news programs, talk, and public radio.
Posted in Events, Public Awareness, Regional Member News.