How GoWest is Helping CU Professionals on Their Journey to Executive Leadership
June 27, 2023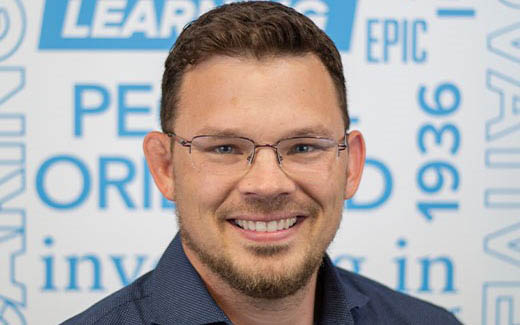 Jeremy Sankwich applied for GoWest's Executive Ready program because he was searching for his "C" — his "capacity" to grow as a leader and earn a place in the C-suite.
A vice president at CapEd Credit Union in Meridian, Idaho, Sankwich had already been building up his career path. After leaving tech startups to join the credit union industry in 2013, he attended GoWest's Emerging Leaders Program, Western CUNA Management School, and earned an MA in management and strategic leadership in Portland, Oregon.
And this year, he earned a GoWest Solutions scholarship to attend Executive Ready – the highest-tier leadership development course offered at GoWest that helps leaders excel in C-suite level positions.
Sankwich sees the program as the next step in his career journey — growing professionally so he can help others grow, too.
"I aspire to follow in the footsteps of COOs, CEOs, and other leaders I've met that deeply invest in their own credit union and communities, but then go further and invest in leadership development more broadly across the industry as a whole," he said.
The six-month program offers senior leaders a roadmap to building high-performing, connected, innovative teams. Its tried-and-true methodology offers an in-depth understanding of the common pillars of an executive's experience — like building trust with employees and the importance of leadership presence.
"The Executive Ready kick-off session has inspired me to be more intentional about my executive presence — 'living in the and' to be both confident and humble, focusing on results and relationships," said Deborah Donnelly, senior program manager of talent and performance development at BECU, who is attending the program with Sankwich.
Leading well is at the heart of what credit unions do. They spearhead programs that benefit the underserved, give back to their communities, and support education initiatives. Donnelly and Sankwich are learning how to continue that legacy within the Credit Union Movement.
"Our industry is in many ways a nationwide ecosystem of leadership development – not just to benefit our credit unions, but in the local professional, civic, and non-profit communities around our country," said Sankwich.
When asked what excites him about participating in Executive Ready, he said, "Helping other leaders develop and utilize their strengths is my purpose as a leader and a passion of mine. Training programs like Executive Ready that are real-world, in a group setting, and have proven content will help me be a more effective leader of my departments at CapEd. This program will also provide more tools to help me further develop the leaders in our organization. To me, that's exciting."
Executive Ready is almost two months into its curriculum now and Sankwich and his program peers are already well on their way to becoming effective and inspiring credit union executives.
GoWest Foundation also supports professional development for credit union employees. Check out its scholarship information here. 
Posted in Public Awareness, Top Headlines.