Minnequa Works' New 'Overtime Checking' Earns CU National Exposure and Membership Boost
Posted by Jennifer Johnson on June 6, 2023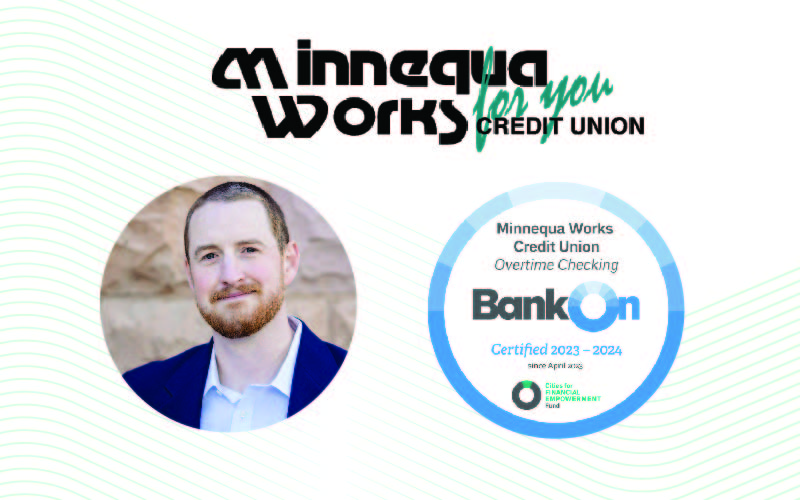 Establishing a checking account has never been easier — or more lucrative — for Minnequa Works Credit Union members.   
The Pueblo, Colorado-based credit union's new "Overtime Checking" account only has two requirements: one debit card transaction per month and enrollment in eStatements.  
This approach to no-strings-attached savings recently earned Minnequa Works recognition from the Cities for Financial Empowerment Fund for meeting national "Bank On" safe account standards, which recommend account features that support access to a safe, affordable banking account for everyone.  
And Overtime Checking pays off — literally — for members. They earn 1.5% interest on up to $5,000. No monthly fees, overdraft fees, or minimum balance are required.   
Residents jumped at the opportunity. Within one month after launch, the credit union saw the strongest growth in new accounts and membership in two years, said CEO Nathan Cape.    
"We recognize how hard our members work and how challenging it may be for people to establish checking accounts or build up their finances, let alone contribute to money markets or CDs, so it's important to reward members for having funds, not just in their savings account, but in their checking account, too," he said. "They also have the peace of mind knowing they can save money without worrying about fees." 
Cape, who was named CEO in April, was tasked with strategic planning for the credit union when he became its President of Operations in October. Demographic and account trends pointed to a focus on new growth, and Minnequa Works wanted something that would "excite people, go above and beyond expectations, and be easy to remember," he said.   
Bank On, which has a coalition in Pueblo County, aims to serve the underserved, a mission that aligns with the credit union philosophy. And Bank On's partnerships with United Way and other nonprofits — in addition to Minnequa Works' efforts through social media, podcast segments, and its website — help the credit union reach the right audience. Cape's goal is to serve at least 15% more community members within the next few years, helping to expand financial service options for individuals and families in Southern Colorado.  
"Credit unions fundamentally — and historically — have been 'people helping people.' This is just one way we can demonstrate our alignment with the Credit Union Movement," he said. "We're offering a product and service that supports our members and hopefully encourages them to associate the experience with credit unions as a whole."  
Posted in Colorado, Top Headlines.