Unitus Community Credit Union Becomes First Pacific Northwest CU to Launch Spanish ChatBot
Posted by Alex Robinson on May 9, 2023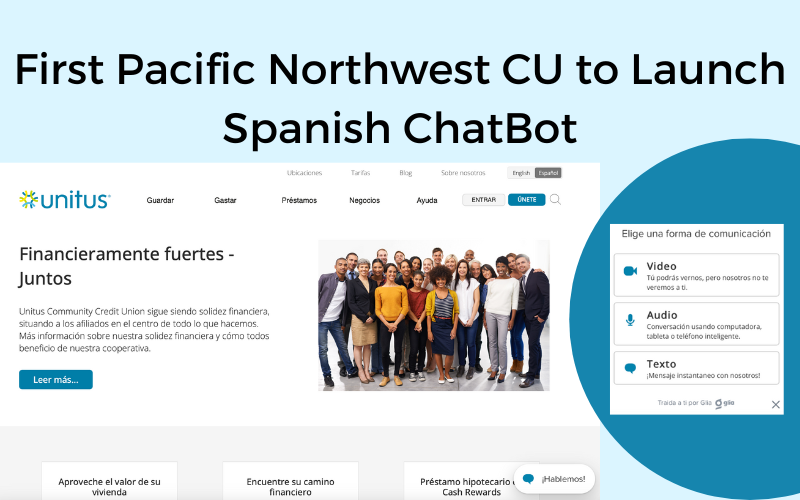 Unitus Community Credit Union, based in Portland, is proud to announce it is the first Pacific Northwest credit union to offer a Spanish-language chatbot. In partnership with Glia, Unitus will launch the service on June 30.
As part of its commitment to providing inclusive financial services in the communities it serves, Unitus developed the Spanish-language chatbot to provide members more options to answer questions about products and services in real time. With Hispanic member growth reaching 32% in 2022, Unitus is dedicated to reaching this emerging market by offering communications in both English and Spanish. The credit union's website is available in both languages.
"We know this segment of our community has been historically underserved by financial institutions," explained Steven Stapp, president and CEO of Unitus Community Credit Union. "We have more than 50 Spanish-speaking employees and now this new digital tool to help us communicate with members in their preferred language."
Glia helped the credit union develop the Unitus Virtual Assistant, an AI-powered chat solution that can answer questions about products and services. It also worked with the Unitus team to address the credit union's specific offerings and improve efficiency and the overall member experience.
Stapp said the credit union is proud to be the first in Oregon to offer a Spanish-language chatbot.
"Nearly 9% of Oregonians speak Spanish as their primary language in the home," he said. "We believe that communication and relationship-building are at the heart of our service model, and this new tool will help improve access to anyone who prefers a Spanish-language interaction."
The new Spanish-language chatbot will be available through desktop digital banking June 30.
Posted in Oregon, Top Headlines.