Three Promotions: VP of Member Experience, VP of Retail Experience and Chief Credit Officer
Posted by Alex Robinson on April 24, 2023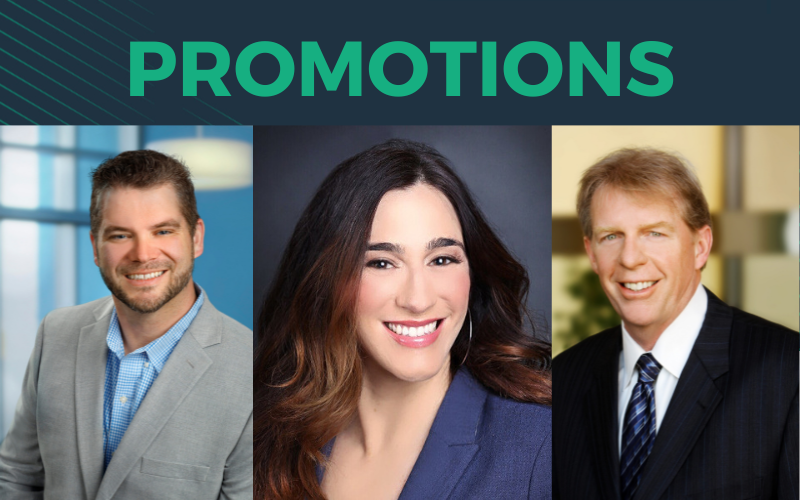 Congratulations on this week's promotions!
Jimena Valdés was recently promoted to senior vice president of member experience for Vantage West Credit Union in Tucson, Arizona.
In her new role, Valdés will provide strategic leadership and oversight of multiple channels, including the retail branch network, member solutions contact center, training, and investment services. She will make it her priority to maintain a positive work environment where employees feel valued and empowered to give their best to ensure an exceptional member experience.
Valdés first joined Vantage West in 2017 as assistant vice president of retail banking. In 2021, she earned a promotion to vice president of consumer banking and operations before landing her most recent promotion.
Through her leadership and key contributions to a variety of initiatives, Valdés has been instrumental in increasing organic member growth by 14,000 and implementing initiatives that contributed to the organization's asset size growth. During her tenure, Valdés has provided oversight of consumer banking operations, served as liaison and manager of Vantage West's wealth management program, worked with brokers to secure branch locations, and became a mentor to several of the credit union's emerging leaders.
Prior to her career at Vantage West, Valdés worked for the University of Arizona as a graduate medical education data manager and held management positions with a major bank for nine years.
Valdés previously served as recording secretary for the University of Arizona Hispanic Alumni Association and currently serves as treasurer for the Marshall Foundation Board of Directors.
Valdés holds a B.A. from the University of Arizona with a minor in business administration.
Her passion to serve her team and credit union members — and her tireless drive for uncovering innovative solutions — make her well-positioned to succeed in her new role.
Neilan McPartland has been promoted to Numerica Credit Union's vice president of retail experience. McPartland will prioritize deepening member relationships while leading the Central Washington retail teams.
"Neilan is passionate about helping team members uncover their full potential," said Andy Stirling, Numerica senior vice president. "He has been essential in growing Numerica's six Tri-Cities branches and brings a wealth of knowledge to this role."
McPartland has been with Numerica for ten years. He previously served as assistant vice president of retail experience.
Headquartered in Spokane Valley, Numerica has more than 170,000 members throughout Eastern Washington, Central Washington and North Idaho. The credit union offers a full line of financial products and services and invests earnings toward its core purpose of enhancing lives, fulfilling dreams and building communities. With more than $3.7 billion in assets, Numerica is federally insured by NCUA and an Equal Housing Opportunity lender. Membership is open to anyone who lives, works or worships in the state of Washington or North Idaho.
Gregory Hansen has been promoted to chief credit officer at Numerica Credit Union. Hansen will oversee the credit union's lending, credit, and collections functions.
Hansen brings more than 35 years of experience in the financial industry. He has been with Numerica since 2010, most recently serving as Numerica's executive vice president of credit administration.
"Greg brings a wealth of knowledge and expertise to the position of chief credit officer," said Carla Cicero, Numerica president and CEO. "His has spent years helping business, small and large, achieve their goals. He is innovative and has a unique ability to solve complex business issues. I'm thrilled to have the opportunity to work more closely with Greg as a member of my team."
Among multiple certifications and awards, he is a certified chief executive through CUES, a prestigious designation designed for top credit union leaders. Greg graduated with a business degree from Western Washington University.
Posted in Regional Member News.