Financial Reality Fair Throws Students into the 'Real World'
Posted by Andrew Kobialka on April 18, 2023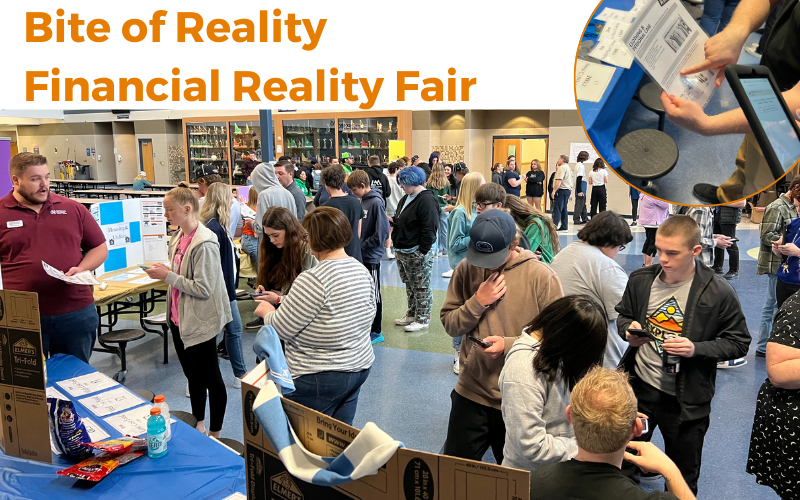 "I'm married with a one-year-old baby and I just spent way too much money on diapers and childcare!" said a Middleton High School student as he was given a simulated life, salary, and the task to build a budget during a financial reality fair.
It was all part of an event put on by the Southwest Idaho Chapter of Credit Unions called Bite of Reality where nearly 300 Middleton High School ninth graders got a glimpse into the value of a dollar.
"This financial reality fair is a great opportunity for our 9th graders to learn how to set a budget and stick to it," said Dee Winegar, Business Teacher at Middleton High School. "I've heard many students say they didn't realize how much simply buying a coffee every day adds up – this event is an eye-opener for the kids."
Idaho recently passed House Bill 92 requiring financial education in high school curricula, but credit unions have been bringing financial education to schools for years now through events like this.
At the fair, kids are given simulated life circumstances, family, job and income, and accrued debt, through the Bite of Reality 2 app on their phones. Then, they must go from booth to booth that represents different financial needs and wants – like buying clothes, cars, toys, recreation, groceries, and housing – and try to stick to a self-made monthly budget.
Each booth was run a by credit union presentative that would sometimes up-sell or other times give financially sound advice, just like in the real world.
From time to time, you'd hear a groan from one of the students who found themselves in debt and locked out of the app after overspending. That's when credit union professionals, like CheRanda Brogan, Nampa Assistant Branch Manager at Idaho Central Credit Union, jumped to action, unlocking the app, and providing real-time counseling on where they could improve their budget.
"I think it is a fun way for them to see how they need to make their budget work for them in real life and it keeps them entertained since the program is interactive," said Brogan. "We are able to have conversations with the students on their purchases, especially when they are over budget, so we can get them thinking about those real-life scenarios and how to help them be successful when the venture out into the world."
Brogan continued, "By doing events like this we are really helping to instill a foundation for them as adults to look at different aspects of finances and know that just because they may want something shiny and new, there is more work and responsibilities that going into it than just buy first and think second."
If your credit union is interested in hosting a Bite of Reality Fair in your community, the GoWest Foundation is ready to help support you with the software, collateral, and tablets if needed.
You can get your kit here!
Posted in Community Impact, Idaho, Top Headlines.