Idaho Credit Unions See Progress in New Financial Literacy Law
Posted by Jennifer Johnson on April 11, 2023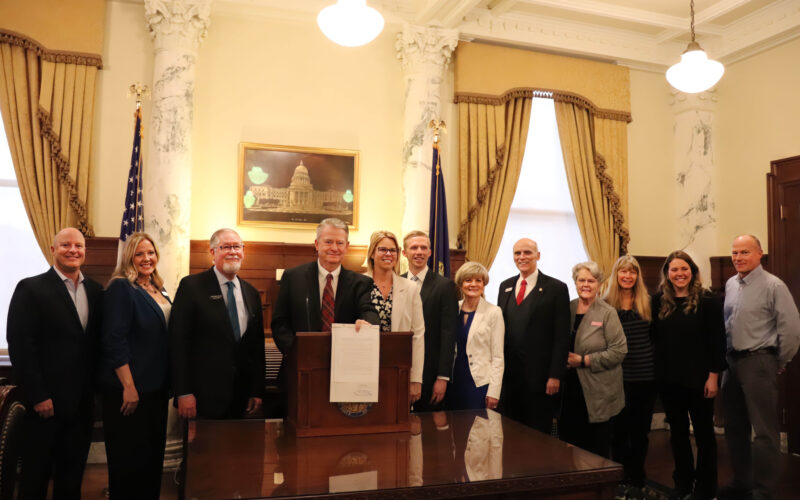 The timing of a new financial education law Idaho credit unions worked hard to support for students couldn't be better.  
Days before the start of Financial Literacy Month in April, Gov. Brad Little signed House Bill 92, which requires all high schools in Idaho to provide a real-world finance class, into law. Now students will learn how to make more informed decisions in their everyday lives, from recognizing how money influences behavior to understanding how credit ratings are determined.  
Idaho Department of Finance Director Patti Perkins said the new legislation "demonstrates the commitment of state and local leaders to create forward momentum on this important initiative for the next generation of Idahoans."  
GoWest Credit Union Association and many Idaho credit unions worked extensively behind the scenes to show policymakers how a financial program could be implemented in the state and what it means for students.  
Last fall, GoWest arranged a meeting with Debbie Critchfield, now state superintendent of public instruction, and a Governmental Affairs Committee subcommittee to discuss credit unions' current financial literacy programs with local high schools.   
"We received lots of input from various entities on this legislation, including our Idaho credit unions, as it worked its way through the legislative process," Critchfield said. "I'm excited about the collaboration that resulted in the bill's overwhelming success and that we will now be tapping into again as we implement the new law statewide. This is a good example of the great things that can come about for our students when we work together." 
The bill gained widespread support throughout the legislative process, passing unanimously in the House and Senate. Credit unions hope next to make the class a graduation requirement, which would be set through a rulemaking process later this year.   
Vice President of Legislative Affairs for Idaho Zach Forster said financial literacy is an issue many GoWest credit unions are passionate about and engaged in. But while they have made various policy efforts with prior legislators and stakeholders, it seemed they didn't gain much traction until now.   
"We are very appreciative of bill sponsor Rep. James Petzke and Debbie Critchfield for their efforts and working with Idaho credit unions to finally get this important piece of legislation across the finish line," he said.  
If your credit union would like to support the initiative for financial education, consider hosting a financial reality fair in your community. GoWest can support you with a kit to get you started!  Learn more.
Posted in Advocacy, Advocacy News, Community Impact, Financial Education, GoWest Association, Idaho, Idaho Advocacy, Top Headlines.