Sooper Credit Union Hosts Easter Event for Kenzi's Causes
Posted by Alex Robinson on April 12, 2023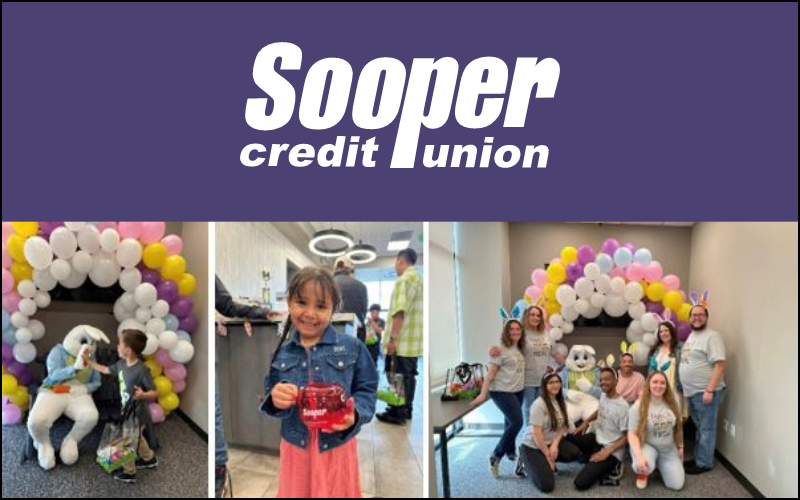 Sooper Credit Union, based in Arvada, Colorado, was honored to host an Easter event this past weekend for the children of Kenzi's Kidz at the credit union's Aurora branch.
Team members organized a fun morning including snacks, surprise-filled baskets, eggs with toys and candy hidden inside, and a special appearance by the Easter Bunny.
"My team and I had an amazing time hosting this event for a nonprofit that has a meaningful impact on not only our local community but many communities throughout the state," said Branch Manager Selena Aarness. "We hope to make this an annual event, bigger and more impactful year after year."
The Kenzi's Kidz program is a division of Kenzi's Causes, a nonprofit organization supporting underprivileged children and their families by equipping them with the tools and resources necessary to thrive and live a well-rounded life. Kenzi's Kidz aims to help relieve the financial burdens of low-income families taking the necessary steps to create a stable environment for their children by providing educational supplies, access to extracurricular activities, gifts for birthdays and holidays, and assistance through financial planning services. Monthly organized activities help families make friends and create a sense of community with those facing similar challenges.
"We are happy to have found Kenzi's Causes. We love what they stand for and how close they are with the families they support!" said Aarness. "We look forward to supporting additional events, including Packz4Kidz."
Sooper Credit Union fosters community giving through volunteerism and the support of sponsorships, donations, and scholarships to empower as many people as possible to take charge of their lives and make their dreams a reality.
Posted in Colorado, Community Impact, Regional Member News.