The Challenge of Balancing In-Person, Hybrid, and Remote Work Options in the Credit Union Industry 
Posted by Jennifer Johnson on April 11, 2023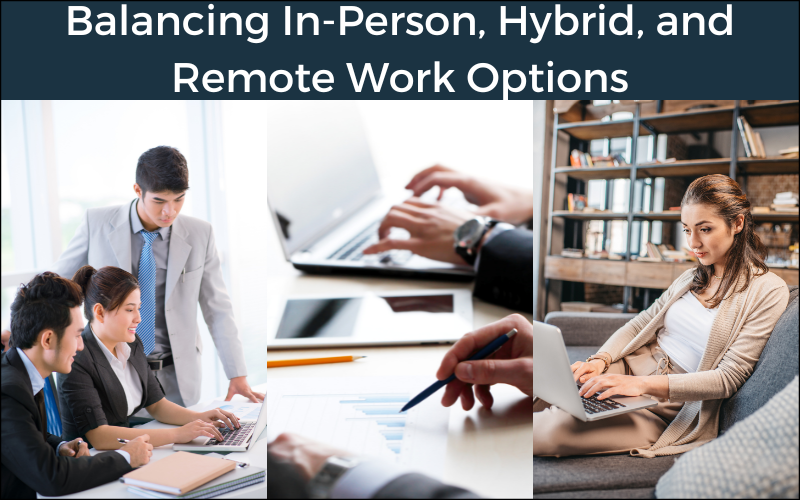 Over the last few years, remote work has become an increasing expectation for many employees. It has its benefits, but it also presents challenges for HR professionals in the credit union industry, who must balance in-person, hybrid, and remote work options to meet business needs while keeping employee satisfaction top of mind.  
Some credit unions are already trying new strategies to strike a balanced approach for their employees.  
For example, Oregon Community Credit Union's pilot program in Eugene focused on launching a four-day work week (get a sneak peek on how they are rolling it out in this short article), and Blue Federal Credit Union's pilot hybrid work program in Cheyenne, Wyoming, allows staff to come into the office and work remotely on select calendar days. 
Finding work harmony is a trending and ongoing challenge across all industries. One of the best ways to strategically determine a solution is by gathering shared experiences and by asking the questions: What are other credit unions doing, has it been successful, and how can you apply it to your credit union?  
You'll be able to do that on May 4 as Chief Operating Officer at OCCU, Tracey Keffer, and Chief People Officer at Blue FCU, Mel Hanes, will be discussing their programs in depth at the upcoming virtual HR Update Seminar – you can sign up here. 
 You can also look forward to updates from legal experts like Farleigh Wada Witt on "Navigating the Different Rules for Credit Unions Related to Criminal Backgrounds of Employees" and "How to Develop Best Practices to Address Return to Work, Remote, or Hybrid." 
Regardless of your credit union's approach to working options, it's important to understand that hybrid work is likely here to stay. A few reasons why include: 
Employee Preferences – Many employees have expressed a desire for more flexible work arrangements, including the ability to work remotely, and organizations that can offer these options are likely to be more attractive to top talent. 
Increased Productivity – Studies have shown that remote work can lead to increased productivity and employee satisfaction, and hybrid work can offer the best of both worlds by allowing employees to work in the way that is most conducive to their productivity. 
Cost Savings – Hybrid work can also offer cost savings for organizations by reducing the need for office space and other overhead costs associated with in-person work. 
If you'd like to continue the conversation around finding solutions to the challenge of balancing in-person, hybrid, and remote work be sure to join the HR Update Seminar. Sign up today! 
Other topics will include updates on:  
Impact on leave laws

 

Accommodations

 

Protection of confidential information

 

(Sticky) Benefits

 

Management (overtime/off-the-clock work, disengagement, discipline)

 
Are you an experienced credit union professional looking to soon fill an executive or C-suite position? You'll want to look into our Executive Ready Program. 
Posted in CU Difference, Events, Public Awareness, Top Headlines.