Want a Better Member Experience? Ask your Team for Their I.D.E.As.
Posted by Amanda Guyton on March 16, 2023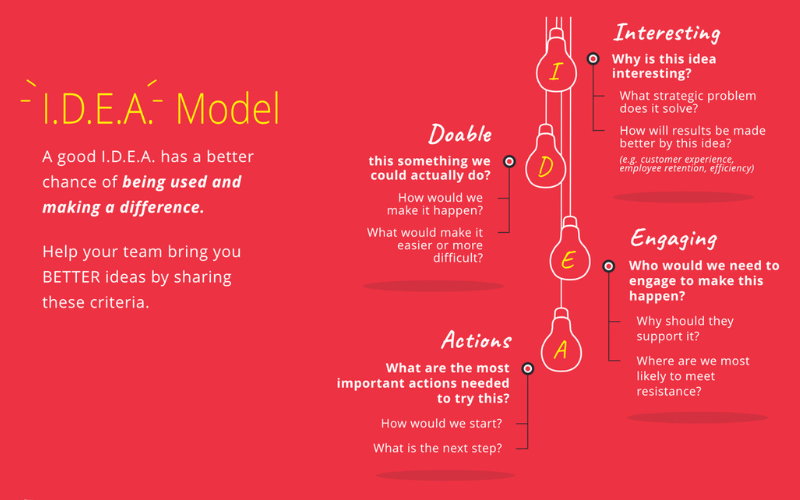 Have you ever found yourself asking questions like this?
"Why don't our employees closest to our members share more ideas?"
"How can we do a better job sharing best practices across our branches?"
"What's the most important thing we can do to retain our employees?"
"How can we encourage employees to stretch and grow?"
If you're like most credit union leaders we work with, you're always on the lookout for new ideas to improve the member and employee experience. And, as participants in the GoWest Executive Ready Program have confirmed over the last few years, it's not easy. It takes more than an open door to encourage employees to contribute their ideas and share best practices. You have to ask them for their ideas and give them the confidence and skills to give those ideas the best chance of being heard.
This is consistent with our research on psychological safety and innovation,
67% of employees said their manager operates around the notion of "this is the way we've always done it," 40% lack the confidence to share their ideas, and 50% said they hold back ideas because they think, "nothing will happen anyway, so why bother?"
So, here's the good news. There's a very practical and proven way to give your employees the confidence and competence to get better at sharing their ideas.
Help Your Credit Union Employees Bring You Better Ideas
If you want better ideas, help your employees know what differentiates a good idea by giving them a few criteria. First, create clarity about where you need a great idea by asking a courageous question.
For example:
What's one way we can improve the member experience?
What's one idea you have to improve this process?
What's one best practice you think would help others in your role?
And then invite them to share their ideas in the framework of the I.D.E.A. model.
The I.D.E.A. Model to Help Your Employees Communicate Their Ideas
We've found this framework helps make it easier to share ideas in two ways. First, it helps your employees think a bit more strategically about your credit union and how to improve the member or employee experience. And second, employees feel more confident in sharing because they've been invited to contribute in such a specific way.
I-Interesting
Why is this idea interesting? What strategic problem does it solve? How will results improve from this idea (e.g. member experience, employee retention, efficiency)?
D- Doable
Is this idea something we could actually do? How would we make it happen? What would make it easier or more difficult?
E- Engaging
Who would we need to engage to make this happen? Why should they support it? Where are we most likely to meet resistance?
A- Actions
What are the most important actions needed to try this? How would we start?
Of course, after you ask, how you respond to ideas, even if they are wacky really matters too.
Be sure you respond with gratitude for thinking about how to make things better. Information that will help them understand what's going to happen next (and why). And, an invitation to contribute more.
Karin Hurt and David Dye help human-centered leaders find clarity in uncertainty, drive innovation, and achieve breakthrough results. As CEO and President of Let's Grow Leaders, they are known for practical tools and leadership development programs that stick. They're also the trainers for our Executive Ready Program (to build high-performance innovative teams). Learn more here.
Posted in Leadership, Top Headlines.