Q&A With GoWest Leadership Institute Scholarship Winner – Taylor Castle
Posted by Andrew Kobialka on March 7, 2023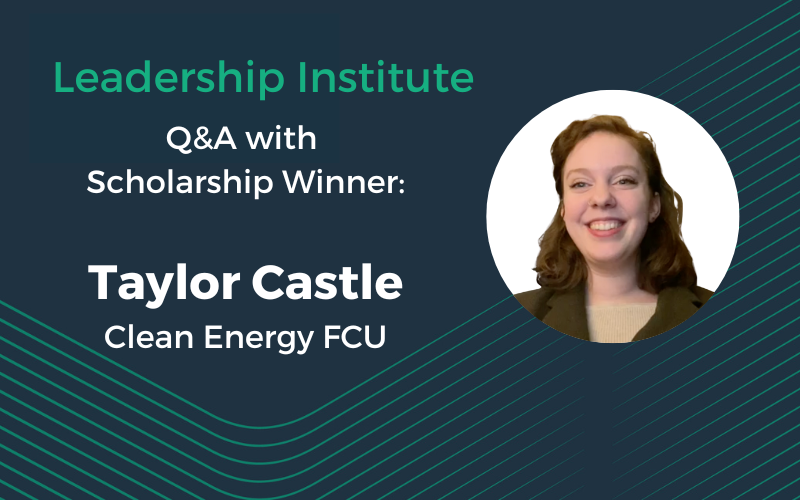 Congratulations to Taylor Castle from Clean Energy Credit Union for winning the Leadership Institute Scholarship Contest – earning Free Registration Tuition ($3,600 Value)!
Gowest has three levels of leadership development programs.
Leadership Institute – For new, aspiring leaders
Advanced Leadership (

formerly Emerging Leaders

) – For mid-career leaders
Executive Ready – For new or upcoming executives and C-suite leaders
Each program offers an opportunity at free tuition through a scholarship contest. Castle registered for Leadership Institute then submitted a short video as her entry into the scholarship contest.
We caught up with Castle to hear what she is looking forward to in the Leadership Institute Program.
How does it feel to have been awarded this scholarship?
I am very excited that I received the scholarship! I really had no clue if my video was what they were looking for in a submission, but I'm so glad I went outside of my comfort zone made the video and applied. I am shocked and was so excited to share with my team that I won the scholarship, they all were waiting with me to hear how I did, and it was great to get to celebrate this with them!
What about the Leadership Institute curriculum excites you? 
I'm thrilled to have this amazing learning opportunity to get to learn new leadership skills and expand on the ones I already have. The chance to glean from peers I will meet along the way, as well as those who have been in credit unions longer than me is not something that I want to miss out on.
Can you share one of your career goals, and speak to how you hope Leadership Institute will help you achieve it?
It is my goal to become the team lead for the member service department of my Credit Union. The skills I will be picking up will go a long way in helping me step into the leadership role I am pursuing.
What made you decide to invest in yourself through GoWest?
My CFO reached out to me with information on how to apply and I believe in trying new things and pushing yourself to grow. The Leadership Institute will challenge and help me grow as a leader. I was told that this would be a great opportunity and help set me up for my future goals.
Registration and scholarship contests are still open for Advanced Leadership and Executive Ready. Apply today & share with a peer!
Advanced Leadership: Registration Closes March 22 || Scholarship Contest Closes March 10
Executive Ready: Registration Closes April 27 || Scholarship Contest Closes March 31
Reach out to Layna Officer with any questions.
Posted in GoWest Association, GoWest Solutions, Leadership, Thought Leadership, Top Headlines.