In Olympia, Credit Union Day at the Capitol is a Family Reunion
Posted by Andrew Kobialka on February 14, 2023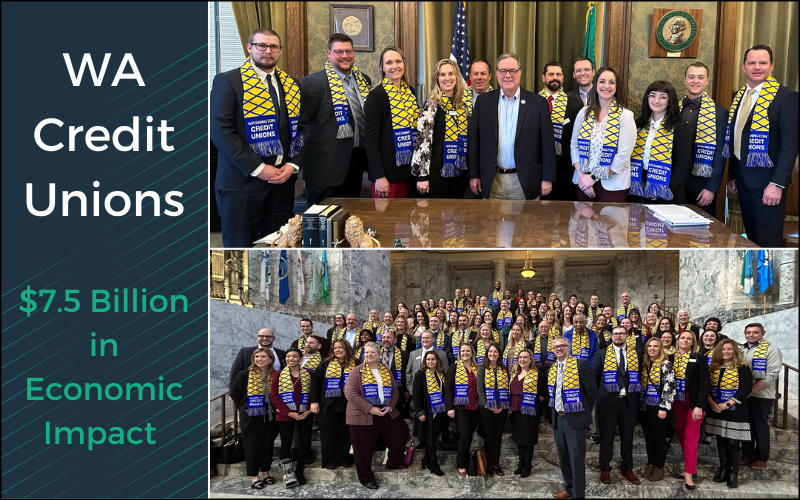 It's been two years since credit union advocates were able to meet with their local legislators at the Washington Capitol during an active legislative session. The 2021 and 2022 sessions were remote. So sunny, blue skies and open doors were a welcome sight to a delegation of more than 200 advocates who came to Olympia for Washinton's Credit Union Day at the Capitol Feb. 9.
Such a strong showing of over 200 advocates, wearing their signature blue and yellow "Washington Credit Unions" scarves, were also a welcome site to legislators, who were thrilled to be visited in their offices by constituents from their home districts.
"It's really great to see you," was a phrase heard again and again.
Advocates shared examples of how their credit unions are helping members in every lawmaker's district and provided data to support those stories – an economic impact analysis performed by ECONorthwest, and a community impact report by GoWest Credit Union Association. Both reports can be found here.
Those impressive data points resonated strongly, especially when supported by specific examples.
One of many was Shawn Gilfedder, president and CEO of Bremerton-based Kitsap Credit Union, who told Rep. Drew Hansen, D-Bainbridge Island, about how his credit union's financial education program has helped 7,000 students throughout 20 schools.
"The proud moment I had," he said, was sharing that for the students, "the improvement of financial literacy is 35-40% over a 12-week period."
Being together in person again allowed Washington credit unions to present Shoreline Rep. Cindy Ryu, D-Shoreline, with the 2022 Community Impact Award. Ryu was the primary sponsor of legislation that modernized the state credit union act, recognized nationally as a model charter.
"I will continue to support credit unions' role in ensuring Washington residents, especially your members, have access to the financial tools and services they need, expect, and deserve regardless of their income or past experiences with the formal financial system," Ryu said.
For every day that a state legislature is in session, there might be many groups of constituents that visit the capitol to meet with them, but having such a large delegation of advocates who represent not-for-profit, cooperative financial services providers, breaks through.
"From serving communities with financial wellness education to supporting home ownership and serving the underserved, credit unions are dedicated to making Washington a great place to call home," said Joe Adamack, GoWest's VP of legislative affairs for Washington. "Educating policymakers with the impacts of Washington credit unions both through the new impact reports and by credit union representatives connecting with them at the Capitol helps ensure policymakers provide credit unions with the tools they need to provide the modern and responsive financial services Washingtonians need."
Editor's note: Credit Union Day at the Capitol events have been successful this year in Idaho, Colorado, Washington, and Wyoming. Oregon advocates will visit the capitol Feb. 16, while Arizona's Credit Union Day at the Capitol is March 15. Learn more.
Posted in Advocacy, Top Headlines, Washington, Washington Advocacy.