Ezra Eckhardt of STCU Appointed to Co-op Solutions Board of Directors
Posted by Andrew Kobialka on February 14, 2023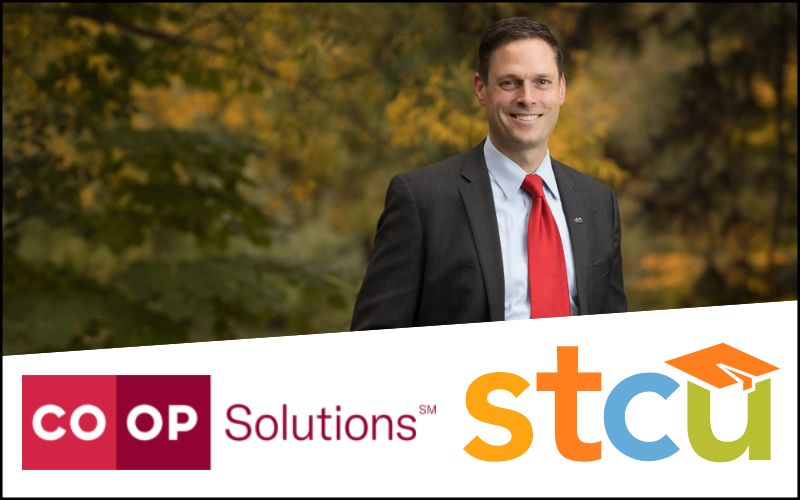 Ezra Eckhardt, president and CEO of STCU, based in Spokane, Washington, has been appointed to the Board of Directors of Co-op Solutions, a GoWest Solutions partner, by a unanimous vote of the directors.
"I want to congratulate and welcome Ezra on his appointment to the Co-op Board," said Joan Opp, Chairperson of Co-op, and president and CEO of Stanford FCU. "Ezra has a unique record of service to our country, the credit union movement, and the Spokane community. We are looking forward to his contributions to the oversight of Co-op, where he will be a strong advocate not only for the credit unions and members of the Northwest, but in every market the company serves."
Eckhardt is a native of Spokane and became president and CEO of STCU in January 2018. A Distinguished Graduate of the U.S. Military Academy at West Point, Ezra served six years in the U.S. Army, including supporting operations in Rwanda, Bosnia, and Liberia, and as a company commander at Fort Benning, Georgia. Following his military service, Ezra held management posts for Honeywell and Microsoft. He was President and Chief Operating Officer of Sterling Bank when it merged in 2014 with Umpqua Bank, where he became Executive Vice President of Operations.
STCU has been a long-term partner of Co-op, utilizing a wide variety of the tools, technology, and services available within the Co-op digital payments ecosystem. The credit union also has been closely associated with the development of Co-op fintech innovations as a frequent beta tester and participant in the Co-op Co-creation Council client program.
"It is an honor to join the distinguished group of credit union leaders on the Co-op Board," said Eckhardt. "This is a great opportunity to help further Co-op's vision of creating world-class digital payment capabilities that enable credit unions to compete now and in the future."
In addition to Opp and Eckhardt, Co-op's Board includes Jackie Buchanan, Genisys FCU; Bob Falk, Purdue FCU; Theresa Mann, NASA FCU; Todd Marksberry, Canvas CU; Greg Mitchell, First Tech FCU; Ricky Otey, Partners FCU; Rudy Pereira, Premier America CU; and Harold Roundtree, UNCLE CU.
Learn more about Co-op and its services by visiting its Partner Page, or reach out to GoWest Solutions Team.
Posted in Regional Member News, Washington.