Sooper Credit Union Announces Promotions, New Hires, and Addition of Innovation Team
Posted by Andrew Kobialka on February 13, 2023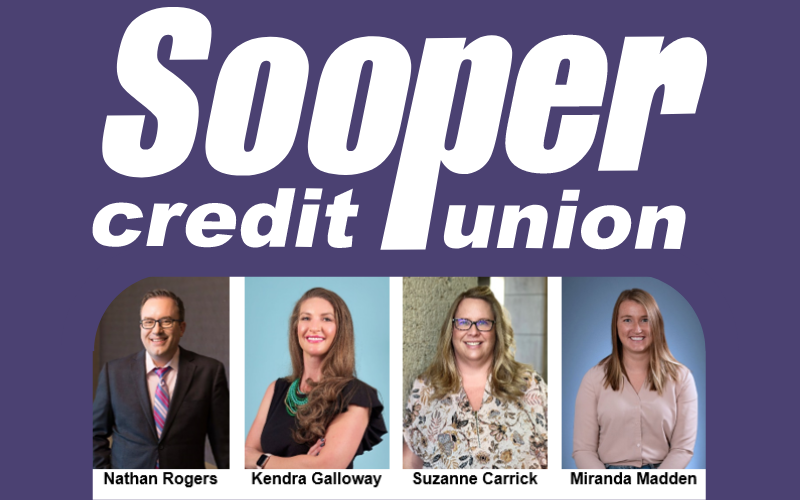 Sooper Credit Union, based in Arvada, Colorado, is pleased to announce the addition of its Innovation team along with several staff changes.
Sooper's Innovation team was established with the goal of evolving existing practices to provide a first-rate member and employee experience. Its key functions will focus on enterprise change and project management, organizational process improvement, and the management and administration of key vendor partnerships and systems. The department will be led by newly promoted Chief Innovation Officer Nathan Rogers.
Rogers is an accomplished executive leader with extensive digital transformation, marketing, and sales experience in the credit union, banking, and FINTECH arena. He joined Sooper Credit Union in 2020 as Chief Strategy Officer, leading the organizational development, and execution of strategic initiatives to promote the sustained growth and long-term health of the credit union.
In conjunction with the addition of its Innovation team, Sooper Credit Union is pleased to announce the appointment of Kendra Galloway as VP of Process and Partner Innovation.
Galloway has more than 22 years of credit union experience. She started her credit union career as a teller and worked her way up to serving on the leadership team for another local credit union. In her previous role, Galloway led project implementation including the application of digital transformation tactics. Her contributions led to significant growth within the financial institution. She also serves as Leader of the Colorado Sister Society of the Global Woman's Leadership Network.
Sooper Credit Union also welcomes Product Strategist, Suzanne Carrick. This new role will focus on improving existing financial products and developing new ones.
Carrick has 24 years of experience in the credit union industry and has worn many hats including Loan Officer, Branch, Manager, Accountant, and Accounting Manager. In her previous role as Assistant VP of Asset-Liability Management for another local credit union, Carrick was responsible for implementing the use of derivatives as a mediation tool against interest rate risk, creating new processes and procedures, and training and educating the ALCO committee and Board.
Additionally, Sooper Credit Union is pleased to announce the promotion of Miranda Madden to its Executive team as Senior Vice President of Human Resources.
Madden has been with Sooper since May 2021, focusing on developing employees and leadership within the credit union, and will be seeing this work through in her new role. During her time at the credit union, she has launched an employee engagement survey and is using that data to make tangible improvements, created a strategy pertaining to employee compensation and benefits, and enhanced focus on employee development and talent alignment.
Sooper Credit Union is excited to welcome these new additions to its leadership team. Their roles will be imperative to the financial institution's commitment to providing best-in-class service and opportunities to our members, employees, and community.
Are you looking for a new career opportunity in the credit union community? GoWest collects and shares job opportunities across our six-state region here.
Are you looking to hire? Post your new jobs here.
Posted in Colorado, Regional Member News.