Credit Union Advocacy is "Trending" in Colorado
Posted by Andrew Kobialka on February 7, 2023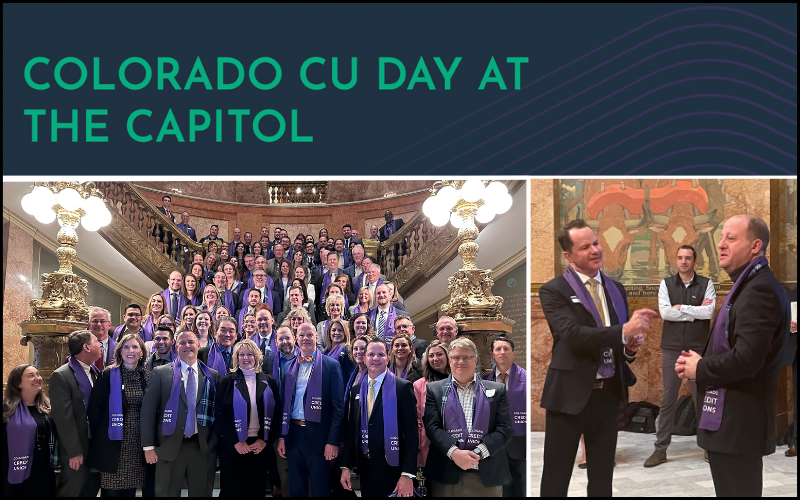 If you're a credit union advocate, you know all about wearing out shoe leather as you shuttle through state and federal capitol buildings to share the messages you are so passionate about. Add another accessory to the fashion statement: scarves. It's what the well-dressed advocates wore to GoWest's first-ever Colorado Credit Union Day at the Capitol last week. Purple scarves.
The look was a big hit, but what really went off the charts was the economic and community impact reports shared with legislators. That got a lot of attention and advocates agree – it was a day well spent.
"It was an incredible opportunity and experience to share our story and spend quality time with our lawmakers, who were in turn very engaged and complementary towards the selfless work credit unions do crafting solutions for their members and communities," said Tracie Wilcox, President and CEO of On Tap Credit Union in Golden, Colorado. Wilcox serves as Co-Chair of the Colorado Governmental Affairs Committee, which collaborates with GoWest to support and develop the advocacy priorities agenda.
Economists from ECONorthwest performed an independent analysis that documented how credit unions' not-for-profit, cooperative structure drives such a large contribution to the economy and communities. Colorado credit unions also provided community impact data to a GoWest survey demonstrating impacts such as help for first-time homebuyers, thousands of hours contributed to community service by credit union employees, and financial education provided to students and adults. See the impact report for Colorado here.
"What we shared with our legislators about credit unions' good work in Colorado was so well-received," said GoWest's Vice President, Legislative Affairs for Colorado, Katie March. "As they see the $4.1 billion economic contributions credit unions made to the economy, and the services to members and communities, that clearly underscored the point that credit unions are essential financial partners to them and to their constituents."
Credit Union Day at the Capitol events were held earlier this year in Wyoming and Idaho. Events are scheduled in Washington on Feb. 9, in Oregon on Feb. 16, and in Arizona on March 15. There is still time to register to have your voice heard.
Economic and community impact reports are being shared with elected officials in all six states represented by GoWest, and at the federal level, beginning with the CUNA Governmental Affairs Conference later this month.
Different credit unions coming together to advocate with a united voice amplifies credit unions' good work – a story they don't share often enough. And that gives legislators the encouragement they need to become credit union champions.  As Wilcox puts it, "Working together, this industry is unmatched."
Posted in Advocacy, Advocacy News, Colorado, Top Headlines.