Beers + Bus Stops = A Winning Combination For On Tap Credit Union
Posted by Ben Shuey on January 31, 2023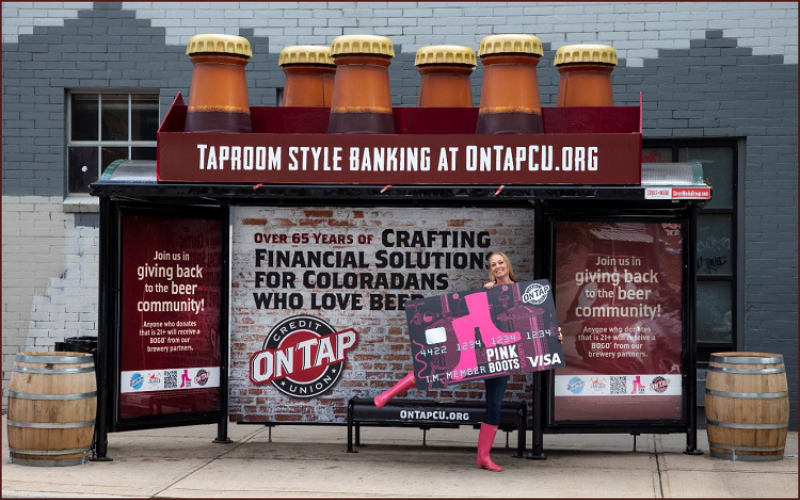 A bold marketing initiative from On Tap Credit Union, based in Golden, Colorado, helped raise the profile of small area breweries suffering in the wake of the COVID-19 pandemic while also bringing in donations for a trade group that benefits women in the beer industry.
Beginning in the summer of 2021, On Tap ran a three-month marketing campaign featuring a bus stop designed to look like a six-pack of beer. That might be an unusual look for most credit unions, but it's on brand for On Tap, which is today a community charter with roots serving Colorado's brewing community. The bus shelter even advertised "taproom style banking," fitting with the relaxed vibe inside On Tap's branches.
"You don't have to love beer to join On Tap," said Janelle Herrera, On Tap's vice president of marketing and business development. "But you must love an easy-going approach to banking because that's our intent. We're not going to be in suits and ties."
The bus shelter design came about fortuitously. Blue Onion, On Tap's media partner, let the credit union know a "bus topper" that resembled a six-pack was sitting unused in a warehouse and was available at no cost if On Tap wanted to use it. However, the credit union would still need to pay for use of the bus shelter.
"The timing was sort of perfect because it was coming off of COVID and many of our brewery partners were struggling," Herrera said.
Along with the topper and signage about the credit union, On Tap also included a QR code that allowed users to donate to the Pink Boots Society, a national organization promoting women's participation in the brewing industry. On Tap committed to matching all donations up to $1,500, and as a thank you for donating, donors received a buy-one, get-one coupon valid at area breweries.
"Pink Boots Society is a close partner of ours and we look for ways to give back," Herrera said. "It was a great opportunity to get some awareness out about us in a way that supports the brewery industry, which needed help after being closed for so long with the pandemic."
Herrera notes that the impact component was crucial for the credit union. "It's a grab-your-attention type piece, but we wanted it to be more than that," she said.
In addition to grabbing eyes, the credit union wanted to do something positive for its community. That's how the QR code came about. Ultimately, the campaign provided an easy way to donate and give back to the community while driving business to local breweries.
Those efforts earned On Tap a 2022 CUNA Diamond Award in three different categories, including outdoor marketing and brand awareness.
Lessons Learned
One hurdle organizers had to deal with was managing donations via the QR code. In the end, On Tap directed those donations through a PayPal account that sent the funds directly to Pink Boots Society.
Herrera admits the total amount of donations was modest. Users were only asked to donate one dollar, so the overall donation pool totaled around $120. However, the credit union still gave the organization a total of $1,500  on top of those donations.
Lasting Effects
There have been financial benefits to the credit union that far exceeded that donation. Although the breweries that participated in the give-back already did business with On Tap, Herrera said at least one brewery brought its business to On Tap as a result of the campaign. Another five have since joined thanks to this campaign and other outreach efforts. All told, the VP said those relationships add up to approximately $2.8 million in business opportunities for On Tap.
To get the word out about the bus shelter and the donation opportunity, On Tap also worked with PorchDrinking.com — a well-known website in the brewing world — to create a video about the campaign that included a walking tour of sites along the way between the bus stop and one of the partner breweries.
It's unclear whether On Tap will rerun this campaign again, but Herrera still chalks it up as a success. If the credit union were to try it again, she said it would likely be part of a more significant omnichannel effort with a greater promotional push around the donation opportunity.
"As a one-off in and of itself, we got some great awareness through PR and we built some great relationships to help the cause," Herrera said. "But we didn't get the amount of donations we would have wanted."
The timing was everything with this campaign, Herrera said. If On Tap had come up with the idea on its own, it would have had to create the display itself, which would've been a challenge for a shop with a tight marketing budget. The entire experience, she adds, emphasizes the importance of partnerships.
"It's typical for credit unions to give back, but this is a unique way to do it," Herrera said. "It's about having those great partnerships so when these kinds of opportunities come along you can take advantage of a situation."
Editor's note: This article appeared originally on CreditUnions.com and is the intellectual property of CALLAHAN & ASSOCIATES. No part may be reproduced, transmitted, distributed, published, or otherwise com­municated without the express written permission of CALLAHAN & ASSOCIATES.
Posted in Colorado, Community Impact, Top Headlines.