How Two Credit Union Professionals Advanced Their Career with C-Suite Skills
Posted by Andrew Kobialka on December 13, 2022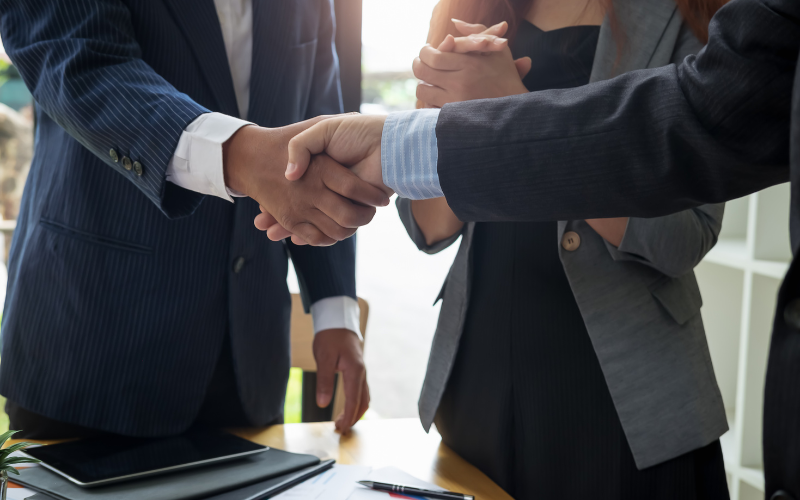 "Any program that can help you build yourself as a professional and personally is worth its weight in gold!" ­said Tina Wickes, VP of Lending at Columbine Federal Credit Union, in regard to the GoWest Executive Ready program that prepares members for career advancement.
Wickes recently completed all four courses in the program designed to accelerate leadership skills development for credit union professionals who aspire to an executive-level position.
Each of the four courses is distinct in the series: Talent Management & Coaching; Executive Presence; Building a High-Performance, High-Engagement Culture; and Strategic Thinking for Game-Changing Results.
Leadership development expert Karin Hurt, who co-founded Let's Grow Leaders and teaches Executive Ready courses, said the GoWest program is distinctive in its collaborative approach: "What really distinguishes Go West's Executive Ready program is the immediate, practical application to strategic business challenges. What we love most is all the collaboration and best practice sharing, as leaders encourage one another and share ideas."
On The Go dug deeper to learn specific takeaways and impressions from Columbine FCU's Tina Wickes and Andrea Valois, Director of Retail for WyHy Federal Credit Union, both of whom recently finished the course, Talent Management & Coaching, becoming the first two graduates of the entire program.
Why did you enroll in Executive Ready and what did you hope to get out of it? Did it deliver? 
Valois: As a Branch Manager, I enrolled in this program to continue my development as I knew I wanted to move beyond the lobby into the executive level. I hoped to obtain a more strategic level of thinking than at the Branch Manager level and boy did it deliver! The tools provided helped tremendously with strategic thinking and employee retention.
Wickes: I recently stepped into an executive role in my Credit Union, and while I have had managerial and leadership roles in my career, none at the executive level.  I enrolled in this program with the hope that the courses would help me build a tool kit and better equip me for strategic thinking, building a successful team and culture, and help me shift my focus outside of my own area of the credit union.  It has delivered in leaps and bounds! I have learned so much that I have been able to put into practice and share with my credit union.
Can you describe your transformation through Executive Ready and how it has helped progress your career? 
Wickes: I feel more confident in speaking with the executive team and board since going through this program.  Critical conversations have been difficult for me in the past, and with the Talent Management and Coaching course I now have many tools easily accessible to me to help me navigate difficult conversations, which in turn is allowing me to build the team, culture and personal growth plans that are needed for the credit union to be successful.
Valois: I was promoted from Branch Manager to Director of Retail in June 2022! With this program I was able to communicate more effectively with the executive team and understand what it was that they were looking for – as a branch manager without these skills, it's hard to understand from the bird's-eye view since you are so far into the weeds.  
Of the four courses in the program, which was most impactful and why?
Valois: Honestly, Talent Management & Coaching was the most impactful for me. As a new Director, I was now leading managers who were my peers, so it was a bit of a transition and the tools provided really helped me in having conversations with them. The 5 C's has been such a great tool that I use most often to have candid conversations – it usually serves as a guide for me to follow and I love it!
 Wickes: Thus far I believe the Talent Management and Coaching has been the most impactful to me.  Through my leadership journey I have enjoyed helping to facilitate growth and development throughout my organization. This course has provided me with several tangible tools that I can not only use for my own team, but the entire credit union as well. Developing future leaders and growing a network of talented people brings me great joy.
How has your growth as a leader impacted your credit union?
Wickes: As I have continued to invest in my leadership growth I have been able to share my knowledge with other leaders in the organization and help build successful career development plans for my direct employees. Being a more strategic thinker has enabled me to share ideas with leaders and our board and have a more active voice. Building a strong culture at my credit union has been a key focus across the leadership team, and having gone through this program I am equipped with ideas and a good foundation of how to help build the culture that we desire.
Valois: I have read Tina's answer to this question and I can honestly say that she took the words right out of my mouth! Sharing the knowledge from this program is the key to help other leaders to help align the organization so we are all on the same path to success.
Posted in Leadership, Top Headlines.