Premier Members Credit Union and Zing Credit Union Named an Honoree of the Civic 50 Colorado
Posted by Andrew Kobialka on November 15, 2022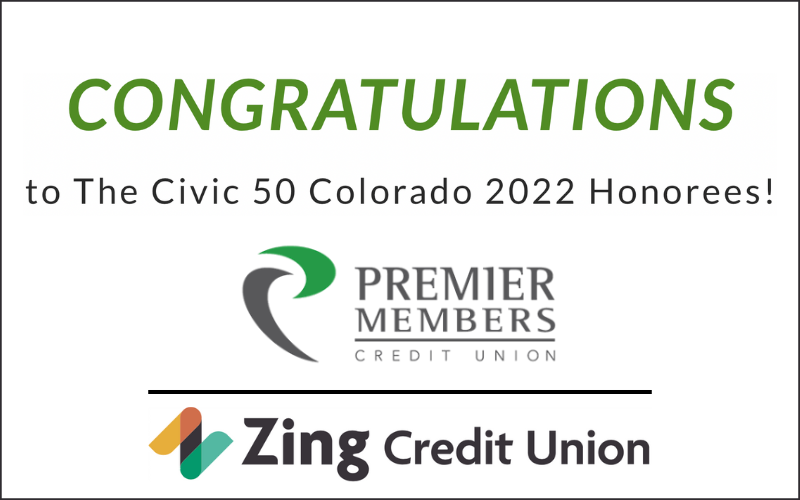 Premier Members Credit Union, based in Broomfield, Colorado, and Zing Credit Union, based in Denver, Colorado, have both been named an honoree of The Civic 50 Colorado by CSR Solutions of Colorado and Points of Light, the world's largest organization dedicated to volunteer service.
The award recognizes Premier Members Credit Union as one of the most community-minded companies in Colorado, determined by an independently administered and scored survey. The Civic 50 Colorado initiative, modeled after Points of Light's national program, provides a standard for superior corporate citizenship and showcases how companies can use their time, talents, skills and resources to drive social impact in their company and communities.
Zing is honored to be recognized with this distinction for its continuing efforts to connect the credit union's values to the needs of its community.  In 2021, Zing Credit Union staff volunteered 604 hours in 2021 for an average of 6.4 hours per employee, presented 85.5 hours of pro-bono financial education classes, and conducted 100 hours of free financial coaching appointments, among other giving and community outreach initiatives.
The Civic 50 Colorado honorees were officially recognized at the Honoree Announcement Event on Nov. 10, 2022. View the recording at http://www.csrsolutionsco.org.
"We are proud to be among the Civic 50 in Colorado," said Carlos Pacheco, CEO of Premier Members Credit Union. "One of our company pillars is Premier: Gives, where we provide the communities we serve with funds and employee volunteers to support initiatives of education, financial literacy, and basic needs."
The Civic 50 Colorado survey is administered by True Impact, a company specializing in helping organizations maximize and measure their social and business value, and consists of quantitative and multiple-choice questions that inform the scoring process.
Posted in Colorado, Regional Member News.