36 Credit Union Professionals Graduate from GoWest's Leadership Institute
Posted by Andrew Kobialka on October 4, 2022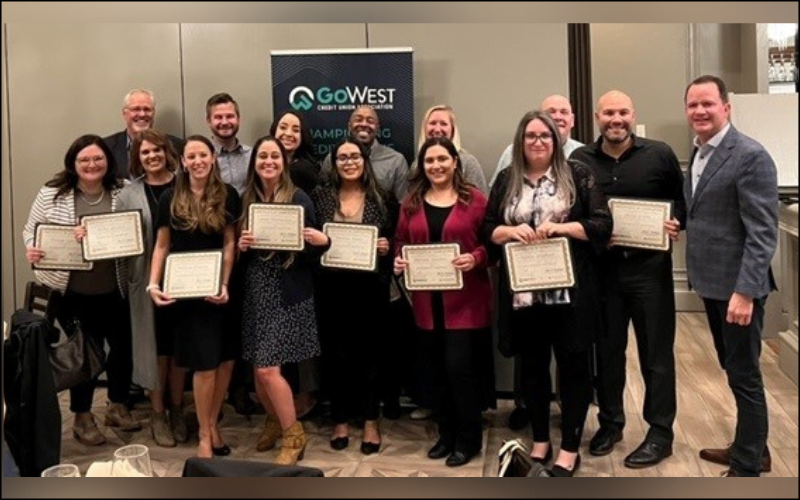 The Credit Union Movement is stronger than ever with 36 credit union professionals recently graduating from GoWest's Leadership Institute.
Graduations were held in Wyoming, Colorado, and Arizona throughout this month in celebration of these budding credit union leaders who are helping propel the Movement toward a brighter future.
The seven-month-long program, created in partnership with Peregrine Global Services, is based on the "BE-KNOW-DO" leadership model and is a hybrid of virtual and in-person learning, assessments, group work, coaching, and practical application in the workplace.
The BE aspect of leadership training helps participants identify and strengthen their personal leadership brand, with a focus on using strong values when making decisions and troubleshooting issues.
The KNOW model helps students to honestly comprehend their current level of interpersonal skills and build on them. The training focuses on communication strategies, team leadership competency, and personal supervision styles while providing tangible problem-solving, change management, and performance management tools.
In the DO model, participants learn how to facilitate learning throughout their team and enable more productive communication, planning, and mentoring. It also teaches conflict management and provides team evaluations.
The professionals who graduate from the Leadership Institute intuitively anticipate needs and proactively work to enrich the Credit Union Movement as a whole, while developing their own skills to carry the vision into the future.
"Having watched the Institute's journey from the original vision to make a measurable impact on the future of credit unions to 12 years later, with more than 340 graduates, and leaders blossoming throughout our Movement is inspiring and gives me great confidence for the future," said Nicole Brusewitz, GoWest's senior vice president of strategic development and learning.
Investing in their growth through programs like the Leadership Institute is an intentional choice for many credit union professionals, often resulting in larger professional aspirations and impact as they become more capable leaders.
"Leadership is a journey, not a destination, and this was just one stop along that journey that will continue to shape me into the leader that I am becoming," said Nichole Fabio, Tuscon-based Pyramid Federal Credit Union's VP of Lending. "The Leadership Institute helped with my career development because of the various tools and resources offered and helping me realize that becoming a CEO may not be out of the question down the road."
Sharing in Fabio's sentiment was recent graduate Lamar T. Johnson, a service area manager for Colorado Springs-based Ent Credit Union. Johnson shared that he came to understand that "one's leadership skills and abilities should always be evolving into something better each day." It was also, he added, a "tremendous opportunity to network and establish lasting credit union family relationships."
The Leadership Institute welcomes a wide range of career stages from emerging leaders to supervisors, managers, and aspiring team leads, and it's not unusual for the training to lead them to higher roles. Such is the case for Leah Friedenberg, senior vice president of organizational development at Pima Federal Credit Union in Tucson. She graduated from the Institute in 2015.
"I've enjoyed increasing responsibility within my credit union and am now in a role where I can leverage these leadership lessons and content to make an impact on other growing leaders on our team," Friedenberg said.
GoWest plans to offer the program in 2023 to credit union professionals in all six of the states it serves. Look across your teams and nominate a teammate who would benefit from leadership training and become a stronger credit union champion — you won't regret it.
"After joining our team and credit union leaders for the graduation event in the past several weeks, it's clear the Credit Union Movement is in great shape," said Troy Stang, GoWest president and CEO. "The next generation of talent we are investing in is well equipped to ensure credit unions will be relevant to tomorrow's market, and will help to accelerate the impact these cooperatives make in communities across the GoWest region."
Congratulations to the following graduates:
AZ Cohort
Paul Thornton, Arizona Central Credit Union
Jennifer Smith, Copper State Credit Union
Elario (Lalo) Escalante, Credit Union West
Patricia (Paty) Larios, Copper State Credit Union
Jodi Gryder, First Credit Union
Ramona Baptista, Mohave Community Federal Credit Union
Nicole Chavez, Pima Federal Credit Union
Meagan Reid, Pima Federal Credit Union
Nichole Fabio, Pyramid Federal Credit Union
Marianne Scarzello ELP, Tucson Old Pueblo Credit Union
Jason Scher, Vantage West Credit Union
Natalie De La Riva, Vantage West Credit Union
Rosevelt Arellano, Vantage West Credit Union
CO Cohort
Melissa Stieren, Bellco Credit Union
Nick Decker, Bellco Credit Union
Shane Griffin, Bellco Credit Union
Becky Becerra, Blue Federal Credit Union
Whitney Thomas, Colorado Credit Union
Jamie Zimmerman, Colorado Credit Union
Vanessa Gomez, Colorado Credit Union
Adriana Urrutia, Zing Credit Union
Emery Harris, Zing Credit Union
Lamar T. Johnson, Ent Credit Union
Mariana Gonzalez, Fitzsimons Credit Union
Kimberly (Kim) New, Fitzsimons Credit Union
Debbie Sheppard, Northern Colorado Credit Union 
WY Cohort
Lisa Cardona, Blue Federal Credit Union
Amber Rahn, Blue Federal Credit Union
Jackie Hoff, Meridian Trust Federal Credit Union
Troy S Hays, Reliant Federal Credit Union
Katelyn Broome, Reliant Federal Credit Union
Kayla Wolison, Reliant FEDERAL Federal Credit Union
Alyssa Holmes, Trona Valley Federal Credit Union
Dani Blakeman, Trona Valley Federal Credit Union
Joe Schmitz, UniWyo Federal Credit Union
Brooke Bruner, WyHy Federal Credit Union
Posted in Arizona, Colorado, Events, Top Headlines, Wyoming.