GoWest Advocates Go Big in Summer of 2022
Posted by Andrew Kobialka on September 27, 2022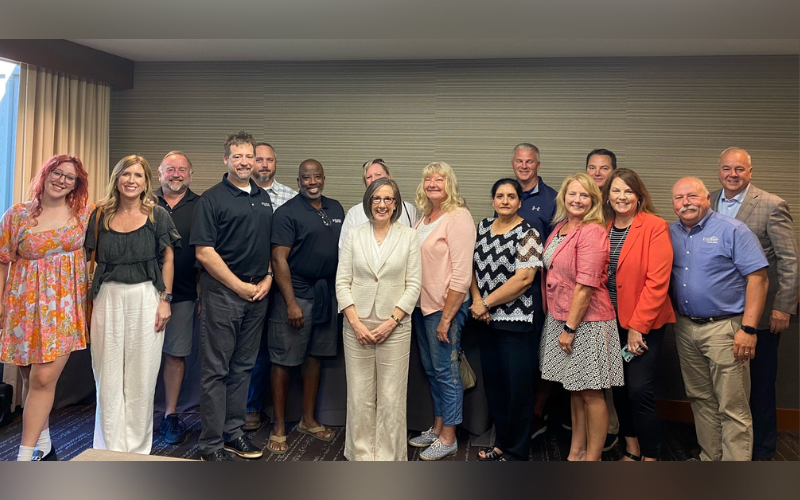 Credit union advocates across the GoWest region missed no opportunities to meet with elected officials and candidates for office. Their message: Credit unions' not-for-profit, cooperative structure drives value for members and communities.
State-by-state, here is a rundown of advocates' busy summer:
Arizona Congressman Tom O'Halleran (D-1) accepted an invitation to join a coalition of credit union leaders in Sedona earlier this month for a luncheon meeting during GoWest Credit Union Association's Economic Forum. Earlier in the summer, Rep. Greg Stanton (D-9) accepted an invitation from Landings Credit Union to visit a restaurant they'd granted a paycheck protection program loan to, during the pandemic. The loan got Sweet Magnolia Smokehouse through the toughest of times, and the business is doing well today.
Colorado credit union leaders welcomed State Rep. Kyle Mullica, (D-34) for a fundraiser in Denver last month.
"Since he was elected in 2018, Rep. Mullica has demonstrated unwavering support for credit unions, and sponsored legislation this year to allow public entities to use credit unions for public funds," said Daniel Diorio, vice president of Legislative Affairs, Colorado.
Mullica's bid for election to the State Senate in District 24 is considered one of the most competitive races in the state, making it critically important for credit unions to support him, Diorio noted.
Two Colorado credit unions, Canvas and Clean Energy, coordinated with GoWest to invite NCUA Chair Todd Harper to come to their credit unions this month. They discussed how their respective credit unions are serving their communities. Clean Energy's leadership team told Harper how their unique model is helping consumers install solar, geothermal, and other green services in their homes, and how reducing regulatory barriers could help innovative new credit unions better serve their membership.
In Idaho, credit union members are getting out around the state meeting and educating legislators on the important role credit unions play in communities. This has been a top priority since the Idaho legislature will face a record number of new legislators in the 2023 legislative session. Another example of credit union engagement has been in the area of financial education.
Debbie Critchfield, a Republican running for State Superintendent of Public Instruction, is consulting with a group of credit union leaders regarding financial education, which has been a key priority for her throughout the campaign. The credit unions are joining Zach Forster, vice president of Legislative Affairs, Idaho, in a working group to discuss what a financial education curriculum might look like for Idaho schools.
"In Oregon, advocates joined us in touching base with nearly all legislators this summer," said Pam Leavitt, GoWest Credit Union Association's vice president of Regional Grassroots and Political Programs and Legislative Affairs for Oregon. "Part of our strategy is also to spend quality time with members of key committees."
For example, Jen McMurray, vice president of Strategy & Advocacy for Advantis Credit Union, joined Leavitt in a productive meeting with Rep. Nathan Sosa (D-30). Rep. Sosa was recently appointed to the House Business and Labor Committee, to which most credit union legislation is referred.
Central Willamette, Consolidated Community, Northwest Community, Mid Oregon,  OnPoint Community, Oregon Community, and Rogue are other Oregon credit unions that facilitated candidate meetings this summer.
Numerous Washington legislators visited credit union branches, including Senator Matt Boehnke (R-8 Position 2), who met with the team at HAPO CU. Bellingham-based WECU hosted Representatives Alex Ramel (D-40), Sharon Shewmake, (D-42), and Alicia Rule (D-42 Position 1). Connection Credit Union CEO Scott Prior invited Rep. Tarra Simmons (D-Bremerton) to meet his team.
Federal candidates were part of Washington's advocacy efforts too. On a beautiful summer afternoon in early August, North Coast Credit Union Community Development Officer Thomas Boucher invited other local credit union leaders to his Mount Vernon home for a fundraiser for Congressman Rick Larsen (D-2).  Several other fundraisers and planned for federal credit union champions in the coming weeks.
"When credit union advocates host elected officials, it's a real opportunity for strong relationship development to occur, and for them to talk about how they are serving that official's constituents and changing members' lives," said Ryan Fitzgerald, Vice President, Federal Advocacy.
Wyoming credit unions joined the GoWest team in hosting fundraisers this summer for Governor Mark Gordon (R-WY), and for State Senator Tara Nethercott (R-4), who was a candidate for Secretary of State. Sen. Nethercott sponsored key credit union legislation earlier this year.
All of this "shoe leather advocacy" has been taking place at the same time Governmental Affairs Committees in each state have been hard at work helping to develop the legislative agendas for 2023 and beyond.
Posted in Advocacy News, Top Headlines.