PPP Loan Leads to Sweet Relationship, Prompts Congressional Visit
Posted by Andrew Kobialka on August 23, 2022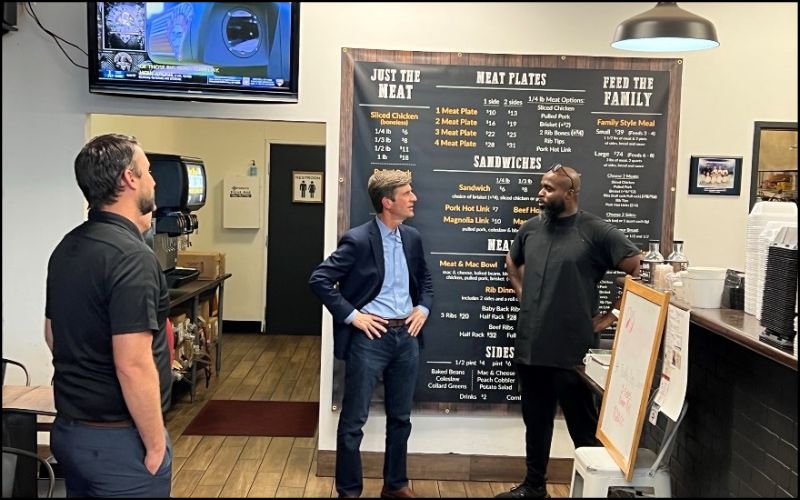 Like most small-business owners, Derry Hammond was facing severe impacts from the pandemic-related shutdown in early 2020. When he heard about the Paycheck Protection Program (PPP), he immediately checked into it with his bank.
What he quickly learned was that his business, Sweet Magnolia Smokehouse in Chandler, Arizona, was not even on the radar of the larger financial institution where he was banking.
"I couldn't even get a response from them," he said.
He looked around for an alternative that offered PPP loans and found Landings Credit Union.
"Their response was, 'sure, we'll help right away,'" he said.
With Landings, he was treated like "a real person, with a real business who needed real help."
Hammond's business had only been open for seven months when the pandemic hit. He had heavily invested in his staff, equipment, and location. The business was beginning to grow and gain a following when it was forced to close.
"We had to adjust the way we operated," Hammond said. "Getting the loan as a small business and a minority-owned business allowed us to make adjustments like offering online ordering and working with delivery services while continuing to pay the employees."
His loan was processed quickly, and he got the much-needed funds within a couple of weeks of his initial application. His loan allowed him to operate for approximately four to five months, long enough to help him get back on his feet and make the changes he needed to thrive.
Hammond's story is similar to many smaller business owners who are credit union members. They felt ignored by other financial institutions. Credit unions stepped up to provide PPP loans even if they were not previously vetted by the Small Business Administration as lenders.
Landings Credit Union was one of those that decided it was important to go through the application process to become a lender so it could help its members. Brian Lee, president and CEO of Landings, said before the pandemic, "We were not doing SBA loans. We went through the difficult process to sign up just to do PPP loans."
As a PPP lender, Landings made 163 loans to 124 borrowers, for a total of $4.3 million dollars. Lee said the average loan was about $27,000. Breaking it down further, 67 of the loans were to minority- and woman-owned businesses, a total of 41% of the PPP loans made by the credit union.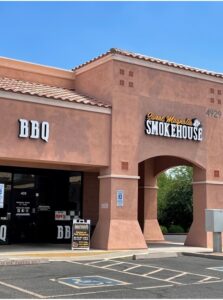 Those numbers got the attention of Arizona Representative Greg Stanton (D-04) in a virtual Hike the Hill visit this past March. Lee shared the volume of PPP loans made by Landings and relayed how the credit union was able to help Hammond's BBQ business. Stanton expressed great interest in making a trip in person to Sweet Magnolia.
Lee and his team worked with Stanton's office to coordinate a visit on July 22.
"I thought it was very important to have Congressman Stanton visit Sweet Magnolia Smokehouse to get an idea of how the PPP funds helped a very small business," Lee said. "The Congressman got to hear the story straight from Derry about how those funds kept his doors open and allowed him to pay his staff. I think that our representatives like to connect numbers with the real people that benefit from programs such as PPP. It was a great opportunity for us to sit down with him and the small business owner to show the impact credit unions can have in our community."
Hammond agreed. "We had a great visit," he said. "We talked about how the loan helped me get through a tough time, and I told him I was grateful to him for getting the bill passed that funded PPP loans."
Stanton had lunch with Hammond and his team while he was there. "He cleaned his plate," Hammond said with a big smile.
The work that credit unions do to serve their members is vital. Hammond is now a loyal member whose voice is heard by those he interacts with. He recommends Landings, and credit unions in general, to anyone who asks.
"I really appreciate that they were there for me when I needed them," Hammond said. "I tell people, 'If you ever need friendly, personalized service, go to them.' They are first-class, trustworthy, and I am forever grateful."
The experience and shift in how he approached the business has led to growth. Hammond now has the brick-and-mortar location along with a mobile food truck used for catering and community events. In fact, that truck recently catered an event at Landings.
"It's a relationship," Hammond said. "They think of Sweet Magnolia for food, and I think of Landings for banking."
Advocacy is job one for GoWest Credit Union Association. The more credit union teams engage in advocacy on the local and federal level, the more positive impact and stories like this will emerge. Get involved through grassroots advocacy, the State Issues Working Groups, state Governmental Affairs Committees, Key Contacts, Hike the Hill visits, and more.
Posted in Advocacy News, Arizona, Top Headlines.