Credit Union Messaging Greets Thousands of Lawmakers in Denver
Posted by Andrew Kobialka on August 9, 2022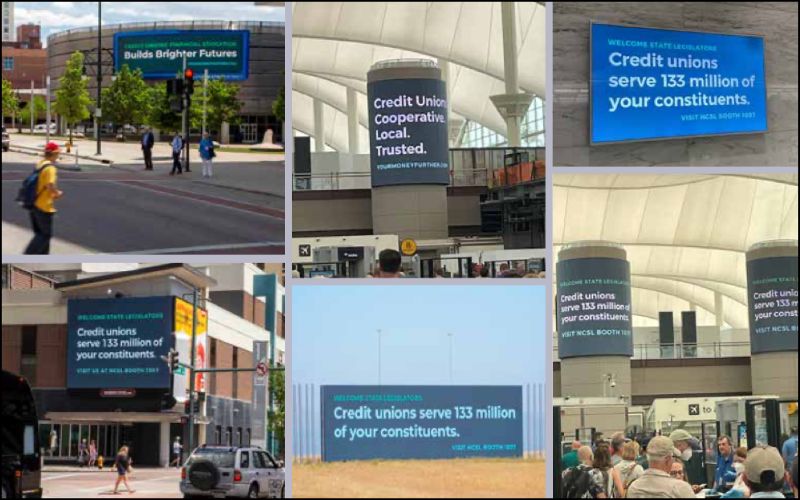 Credit unions took center stage in Denver, Colorado, as thousands of state legislators from across the nation traveled to the "Mile High City" for the National Conference of State Legislatures (NCSL) Summit held Aug. 1-4.
The annual Summit, held last week in Denver, is the nation's largest bipartisan gathering of state legislators and their staff.
"Credit unions need to continuously message policymakers about how they are serving consumers and communities," said Troy Stang, president and CEO of GoWest Credit Union Association. "With so many legislators from all 50 states meeting in Denver last week, we took the opportunity to make sure credit unions were noticed."
GoWest Fund sponsored a "plane-to-plane" advertising campaign that welcomed legislators in the airport concourses and baggage claim areas, on digital billboards outside the airport, inside the convention center where the Summit was held, and in strategic locations throughout the Mile High City's downtown. The robust campaign garnered millions of impressions, both with NCSL attendees and consumers.
The advertising directed attendees to the Credit Union National Association's booth in the convention center, where they met with team members from credit union leagues and associations from across the country. Your GoWest advocacy team was on the ground connecting with legislators from our states. Advertising also messaged credit unions' commitment to financial education, one of the key topics discussed at the Summit.
"It is important that state legislators appreciate the credit union value proposition," said Pam Leavitt, vice president, regional grassroots and political programs/legislative affairs for Oregon. "The delivery was loud and clear — we heard over and over that the message, on behalf of more than 133 million credit union members, was strong and powerful."
The bold, proactive message and supporting campaign directed at the thousands of NCSL attendees is representative of the future-focused and innovative approach to advocacy embraced by GoWest Credit Union Association and its members.
"Across the board, legislators were greatly appreciative of the chance to connect with us throughout the event, and many complimented the highly visible credit union messaging from the time they landed through the event, said Joe Adamack, GoWest's vice president, legislative affairs for Washington. "Even beyond legislators, a number of other lobbyists, legislative staff, and stakeholders sought me out to comment how much they noticed the credit union presence through both advertising and messaging — it came up often while connecting with people."
The opportunity to effectively communicate the benefits of credit unions to policymakers in a big way was made possible by the collaboration and support of our member credit unions.
"We were proud to lead locally as the GoWest effort complemented the efforts of CUNA's investment,'' Stang said. "Showcasing how credit unions' not-for-profit, cooperative structure delivers benefits to members and positively impacts communities helps ensure policymakers are more likely to support our legislative and regulatory priorities."
Posted in Advocacy News, Colorado, Top Headlines.