Ready. Set. Go Forward with the Advocacy Model of the Future
Posted by Andrew Kobialka on July 3, 2022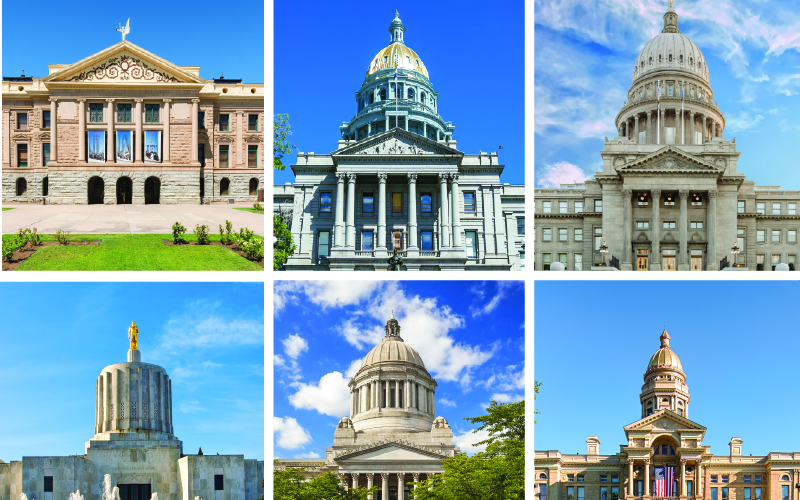 Advocacy is the primary strategic focus of GoWest Credit Union Association and is the key priority member credit unions say they value in the partnership with their association. When advocacy is successful, it creates an operating environment that positions credit unions to best serve their members.
A More Influential Voice in Washington, D.C.
Coming together as six states means 12% of the U.S. Senate and 10% of the U.S. House is represented in GoWest's footprint. This gives credit union leaders additional access and greater influence and increases the likelihood that senators and representatives from our states will serve on, or chair, key committees. Last month, a delegation of credit union leaders from Arizona, Colorado, Idaho, Oregon, Washington, and Wyoming, officially launched the expanded federal voice during the first-ever six-state Spring Hike the Hill. They met with NCUA leadership, and during their Hill meetings, secured sponsor support for legislation modernizing the Federal Credit Union Act. The fall Hike the Hill event will take place September 20 – 22.
An Intentional Focus on Hyper-Local Advocacy
GoWest Credit Union Association will dedicate additional resources to executing hyper-local state advocacy in our state capitols, building relationships with lawmakers, and championing credit unions' unique priorities. Member-driven Governmental Affairs Committees are now established in all six states. Throughout this summer, credit union leaders are meeting with the GoWest team, to begin the process of identifying state and federal policy advancement priorities for 2023 and beyond.
Supporting Advocacy with Data
GoWest members are currently providing economic and community impact data. Economists from the renowned firm, ECONorthwest, will perform an independent analysis of the data to determine how credit unions positively impact the economies in each state. The community impact data will measure credit unions' unique programs and services, financial education, charitable contributions, and more. These rich reports will be shared with legislators next year and have been proven to help pass legislation and stave off unnecessary laws and regulations.
All in for Advocacy
Whether you're a credit union leader serving on a state-based GAC, or an aspiring advocate hoping to attend a Day at the Capitol event, there are opportunities for all Credit Union Movement employees to be part of advocacy – job one. Don't wait to get started. Register now for this month's two-part virtual Advocacy 101 training workshops taking place at two convenient times July 21 and 22. More information can be found online.
Posted in Advocacy News, Top Headlines.