Introducing the First-Ever Six-State YP Leads Cohort!
Posted by Andrew Kobialka on July 3, 2022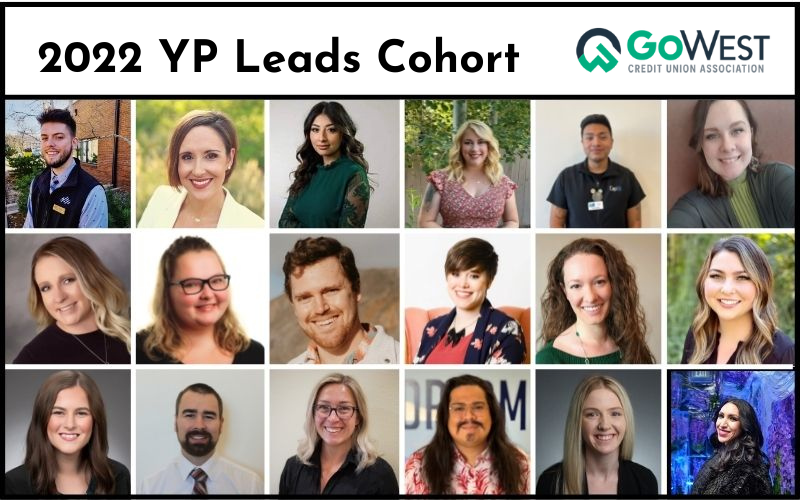 It's official! Eighteen passionate credit union Young Professionals have been named 2022 YP Leads, earning their ticket to MAXX 2022 this fall! This year's cohort was carefully selected among many qualified candidates with representation from across Arizona, Colorado, Idaho, Oregon, Washington, and Wyoming. The group represents the first-ever six-state YP Leads cohort in the history of the program.
"Thank you to the outstanding candidates who have each dedicated themselves to the future of the Credit Union Movement," said Mark Gonzalez, Sr. Manager, Member Engagement at GoWest Credit Union Association. "It has been rewarding and inspiring to see YP Leads – for the first time ever – come together from across the new six-state region. I'm eager to see the advances and milestones that are sure to be achieved by these budding leaders."
Since 2017, the YP Leads program has provided select credit union employees with complimentary registration to the annual MAXX Convention and Trade Show, where they join a growing network of future credit union leaders.
Meet Your 2022 YP Leads Cohort!
Paige Beffort, Air Academy Federal Credit Union
Jesus Islas, Arizona Federal Credit Union
Nayab Abbasi, BECU
Wayne Lilly, Blue FCU
Julio Hernandez, CapEd Credit Union
Heather Morris, CapEd Federal Credit Union
Tina Wickes, Columbine Federal Credit Union
Tiffany Tafoya, Copper State Credit Union
Hunter Lemieux, East Idaho Credit Union
Joseph Pogue, Ent Credit Union
Haley Harmon, iQ Credit Union
Lauren Clark, iQ Credit Union
Erin Dillon, Mid Oregon FCU
Hailey Lousignont, Northwest Community Credit Union
Chloe Steger, Oregon Community Credit Union
Ashley Williams, Reliant Federal Credit Union
Dani Blakeman, Trona Valley FCU
Dawn Lepore, Vantage West CU
MAXX 2022 will take place in Spokane, Washington, Oct. 25-27, and is poised to be a historic gathering for the newly expanded GoWest regional community. The YP Leads will have the opportunity to attend general and breakout sessions, network with their peers across the region, assist with special events, and learn how they can help propel the Credit Union Movement forward.
Over the next year, YP Leads will also serve as ambassadors for the Movement, participating in pre- and post- MAXX conference calls and finding ways to strengthen relationships, share ideas, and build peer engagement. They'll play an active role in credit union advocacy by either attending a 2022 advocacy event or supporting local efforts at their credit union. They'll also get involved with local chapters, YP networking groups, and other credit union communities.
"By having the honor of serving as a 2022 YP Lead I hope to gain additional skills and knowledge that can better allow me to serve our members and community," said Heather Morris, AVP, Accounting/Controller at CapEd Federal Credit Union. "Part of what makes credit unions so unique and beneficial is the collaboration that takes place across organizations — the idea sharing, the resources and tools available, and the willingness to help others."
Morris said her job at CapEd Credit Union is ultimately to fulfill its mission and vision of financial empowerment, quality education, and the enrichment of individuals and communities.
"[I hope to] not only connect in a way that can meaningfully help achieve the mission and vision for our credit union and our members, but also be able to provide my own skills and ideas to the betterment of other credit unions and the Movement as a whole."
Learn more about your new six-state association, GoWest Credit Union Association, here. Stay tuned for more information about the MAXX Annual Convention and Trade Show, and other must-attend events, over the coming weeks!
Posted in Across the Region, Chapters.