Governor Little Signs Idaho Credit Union Act Update Into Law
Posted by Ben Shuey on March 18, 2022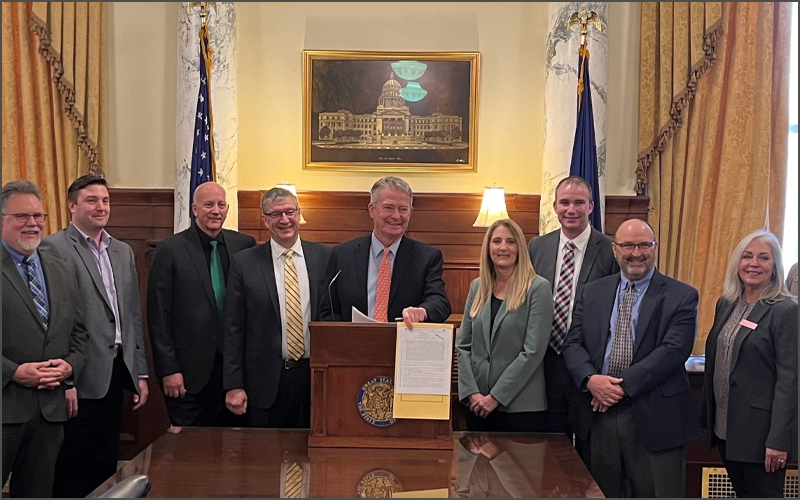 Earlier this morning, Idaho credit union leaders joined Governor Little at the Idaho State Capitol, as he signed SB 1295 into law. This legislation, the 2022 update to the Idaho Credit Union Act, brings significant updates, modernization, and flexibility into the Idaho Credit Union Act, and will go into effect on July 1, 2022. As a reminder, this legislation takes the following steps:
Expanded Branching Flexibility
Overhauled and expanded powers/services for Idaho credit union members, including:

Wealth management and financial counseling services;
Tax preparation services;
Offering financial insurance products for credit union members;
Broadening the operation of electronic service facilities, such as ITMs and advanced technology services;
Allows low-income designated credit unions to provide basic banking services to non-members in underserved or underbanked areas of the State.

Expanded member expulsion flexibility to ensure the safety of employees and other members;
New definition of safety and soundness;
New definition and expanded use of electronic service facilities and advanced technology;
Allows credit unions to hold remote or virtual board meetings and membership meetings; and,
Additional flexibility in the manner in which credit unions update and approve bylaws and articles of incorporation.
A hearty congratulations to all of our Idaho credit union leaders for their efforts to make an impact on the legislative process and act as key advocates, as we worked to modernize our Idaho state charter. Special thanks go out to the members of the Idaho State Issues Work Group and Idaho Government Affairs Committee for all of their efforts to review and propose updates to our authorizing act.
More information about all of the legislative actions that were impactful to credit unions acted on during the 2022 Session of the Idaho Legislature, will be outlined in our Legislative Wrap-up Report, which will be published following the end of the Session.  At this time, we expect that the Session will likely wrap up at the end of next week or early the week of March 28. The NWCUA Advocacy Team will keep you closely informed regarding any additional issues that may arise as the Idaho Legislature wraps up its work for 2022.
Posted in Advocacy on the Move, Idaho Advocacy.