Senator Crapo Holds Roundtable Discussion on Proposed IRS Data Collection
Posted by Ben Shuey on October 14, 2021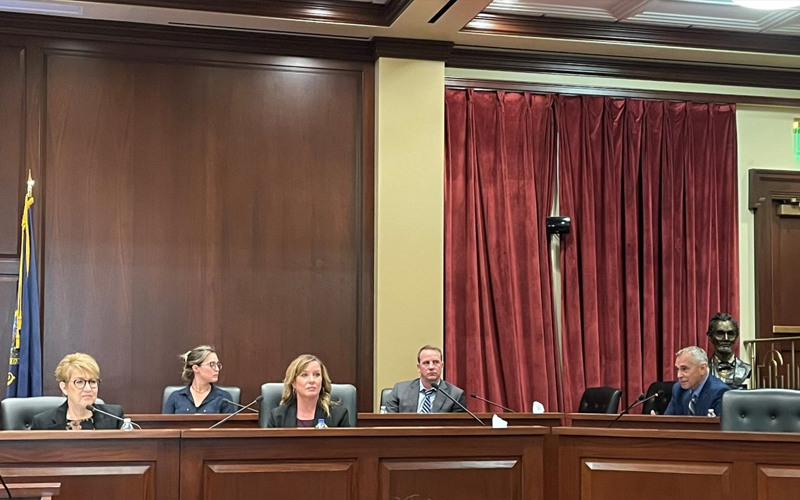 Idaho credit union leaders joined U.S. Senator Mike Crapo (R-Idaho) and other stakeholders for a roundtable discussion Tuesday, Oct. 12 to draw attention to potential federal legislation requiring unnecessary and potentially risky IRS reporting requirements for credit unions and other financial institutions.
Todd Erickson, President and CEO of Meridian, Idaho-based CapEd Credit Union, and Kent Oram, President and CEO of Idaho Central Credit Union, were part of the 11-person panel of financial industry leaders, state government officials, and business owners who gathered at the Idaho Statehouse to draw attention to what Crapo called "the biggest violation of personal privacy ever proposed by the U.S. government."
The proposal, part of a wide-ranging effort to fund or offset the $3.5 trillion federal infrastructure plan, would require financial institutions to report additional data on all account holders with more than $600 in gross flows into each of their accounts to the IRS, beginning in 2023. The plan would dramatically increase the regulatory burden for financial institutions, especially small credit unions, undermine the privacy of credit unions members, and trigger significant data security concerns. Click here to learn more about this provision.
Panel members, including Idaho State Controller Brandon Woolf, and Idaho State Treasurer Julie Ellsworth, said proposed legislation would result in an unexpectable expansion of the IRS's reach and power. Crapo called the proposal "a doubling of the audit Army of the IRS."
Crapo pointed out that the proposal's proponents in Congress and the Administration have said that raising the level of gross flows in accounts impacted by the proposal to $10,000 is a possibility.
However, Erikson told the gathering that no matter dollar amounts being considered, it will be credit union members who pay for the extra manpower and attention the new regulation would demand. Tracking and monitoring account activity at the levels being considered would overburden not just credit unions, but also the IRS, which has a history of data-breaches that worried the panel members. Ensuring it will be done right will be very expensive, Erikson said.
"Our members will end up paying for the cost of this," Erikson said.
Oram agreed.
"It can be a penny or a million dollars, it doesn't matter, it's the same amount of work on America's financial institutions to comply with something like this," Oram said. "This is a massive overreach and we oppose it."
Panel members also worried that consumers fearful of giving too much personal information to the government to leave traditional financial institutions altogether.
"This amounts to a daily and ongoing audit of every person in the U.S. with a bank account," Ellsworth said.
Cybersecurity was a huge concern for the panel given the IRS's extensive history of data breaches.
"From the banking and credit unions' perspective, a cybersecurity breach is not a matter of if, it is a matter of when," said Erickson. "We spend a lot of money to protect the data of our consumers and our members. Once the data is within our house, we can protect it. If we send it out, it is out of our control. If it goes to the government and that data breach happens, our consumers will look to us as to why it happened."
Crapo agreed saying there is "example after example of the IRS being unable to handle the information they already have." Increasing the amount of consumer data the agency would steward doesn't make sense, he said.
ICCU's leadership agreed.
"I'm speaking not just on behalf of ICCU, but all credit unions in the Northwest – Idaho, Oregon, and Washington – in saying that we are opposed to this legislation," Oram said.
Posted in Advocacy on the Move, Idaho Advocacy.