Idaho Governor's Dinner and Legislative Events Kicks Off the 2020 Legislative Session
Posted by Ben Shuey on January 7, 2020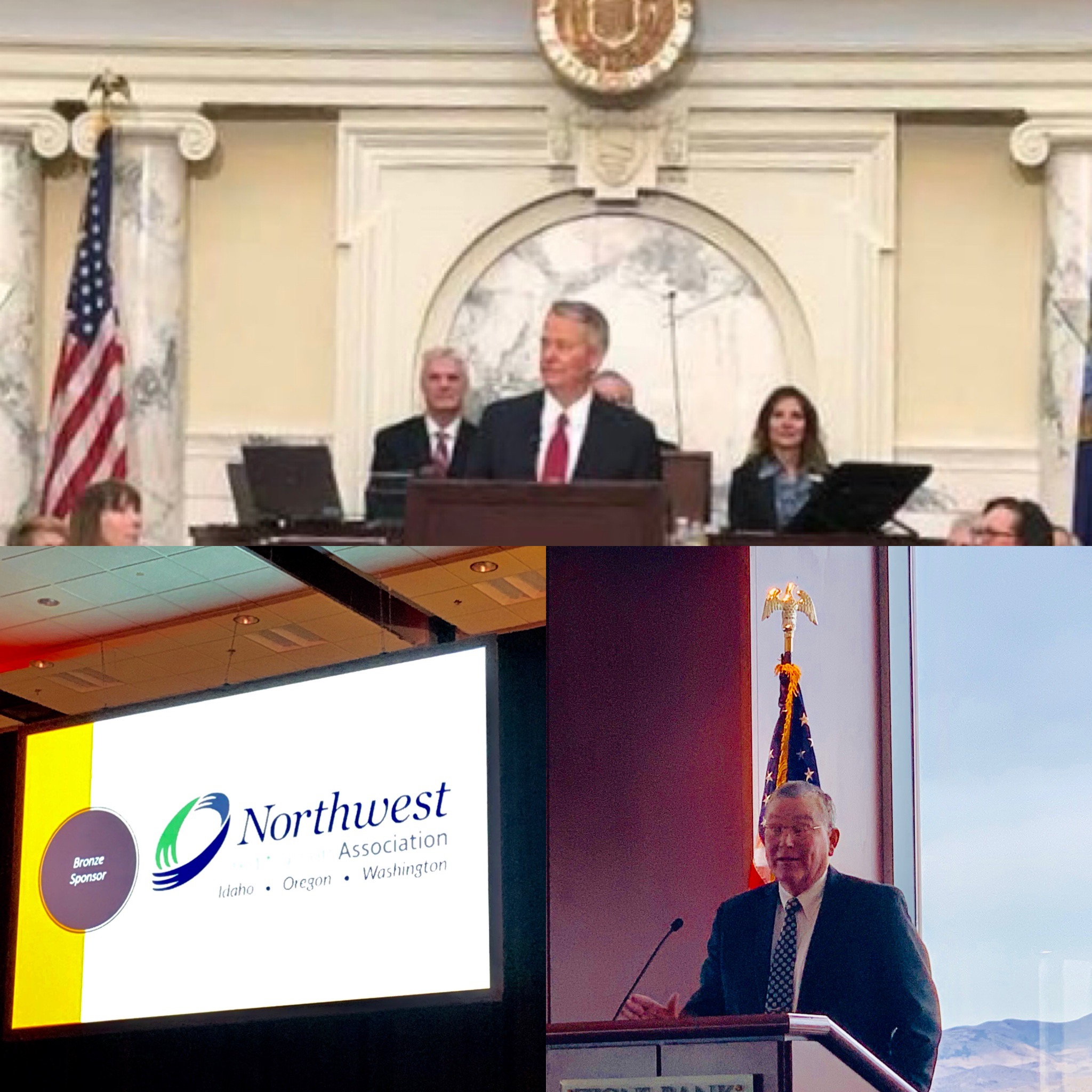 It is legislative season once again, so we are "strapping in" and getting ready for the adventure!
Idaho credit union leaders and members of the NWCUA advocacy team took part in numerous events leading up to yesterday's kick-off of the 2020 Session of the Idaho Legislature. On Friday afternoon, several of our Idaho credit union leaders attended Idaho House Speaker Scott Bedke's (R-Oakley-27) Leadership luncheon, which NWCUA co-sponsored. Throughout Friday's afternoon and evening, Idaho credit union representatives took part in several legislative leadership events, fundraisers and meetings with returning Idaho legislatures and statewide elected officials. The weekend was capped off by the 2020 Governor's Dinner and Ball, which took place at Boise Centre East and the Knitting Factory.
On Monday afternoon, Governor Little outlined his vision and expectations for the upcoming legislative session during his 2020 State of the State. Governor Little reaffirmed his ongoing commitment to reduce regulation in Idaho and explained that his first Executive Order will be to make it a routine practice for regulatory review of rules, calling it a new era of "Zero-Based Regulation."
The Governor continued outlining a very conservative budget recommendation, based on equally conservative revenue growth projections. He outlined a budget recommendation with an assumption of 4.2% expected growth, almost half his projected growth from 2019. With those projections, Little will be putting forth a budget with limited general fund spending growth to 3.75% in his Fiscal Year 2021 budget. In addition, he has already requested his agencies complete a 1% spending "reset" in their base budgets for FY21 and 2% for FY22.  
As Governor Little continued, he reaffirmed that his main priority will remain the public education of Idaho's school aged children. In his budget and program outline, he is recommending continued investment in funding for literacy, teacher pay and career/technical education as well as other educational programs. Little continued in his recommendations by looking to establish a permanent funding stream for transportation and infrastructure as well as an offset funding mechanism for Medicaid expansion. Finally, the Governor outlined his recommendation and commitment to work with the Legislature to eliminate the sales tax on groceries, while also establishing property tax relief for our fast growing State. 
We very much look forward to continuing review ongoing issues being discussed by the Idaho Legislature during our get together at the Idaho CU Day at the Capitol on Jan. 22, 2020. We very hope you and your team plan to be there. If you have not yet registered, please click here and do so now!
Posted in Advocacy on the Move.