Forrit Credit Unions Participated in 'Best Day Ever'
November 16, 2023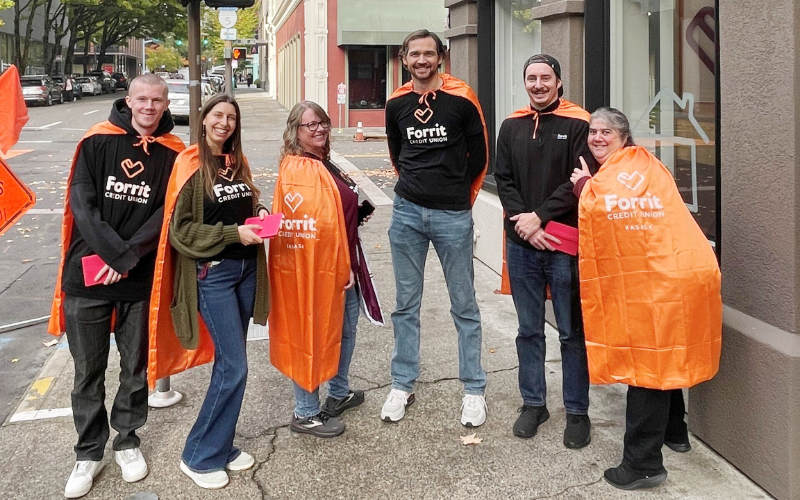 Nov. 3 kicked off the first-ever "Best Day Ever" event hosted by Kasasa, a day when credit unions across the nation came together to spread random acts of kindness. Forrit Credit Union, based in Portland, Oregon, stepped up to the challenge.
Mobilizing their passionate staff, they took to the streets of downtown Portland and Hillsboro in superhero capes, proudly displaying the Forrit name, to engage with the communities of their branches to pass out 300 red envelopes with the message "You matter, and you impact more lives than you know." Some of these cards also contained cash to add to the excitement.
"Going out into our community simply to spread kindness to brighten someone's day was an amazing experience for our team here at Forrit," said Forrit Director of Experiences Sarah Buck. "We wanted to showcase the deep impact of how being kind without expectations of anything in return goes a long way, especially in our current time."
Member Relationship Specialist Ly Phan said, "Being able to brighten up random strangers' day with a simple act of kindness really goes a long way. You never know what kind of life someone is living or what they're going through. Being able to make someone smile and just remind them they are blessed and someone cares is such a humbling feeling."
Over the weekend, the Kasasa campaign reported making over 300,000 random acts of kindness across the nation, crushing its goal. Forrit was the only credit union in Oregon to participate.
Buck said, "We plan to continue to incorporate this type of community engagement going forward at Forrit. Our team truly loved the experience, and wheels are turning on how we can build on the momentum to continue to spread kindness in fun and exciting ways."
Posted in Oregon, Regional Member News.