OnPoint Community Credit Union Honors Portland Workforce Alliance With $100K Award to Advance Financial Education for High School Students
November 14, 2023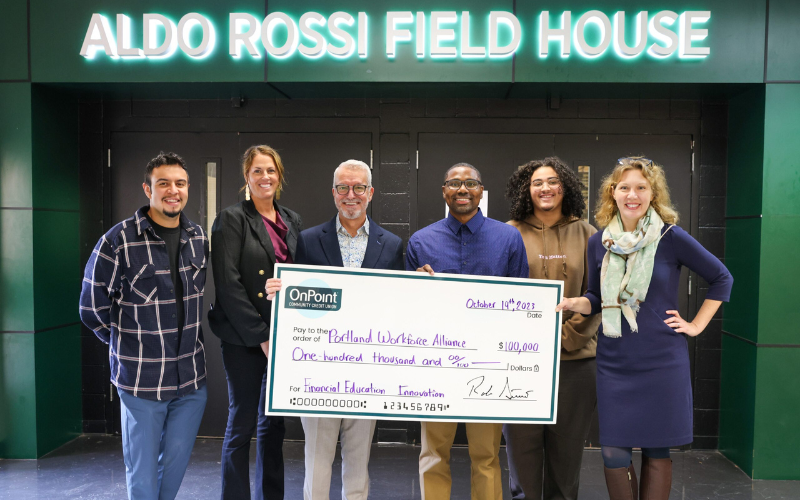 Portland Workforce Alliance (PWA) is set to expand its financial education initiatives with a recent $100,000 award from Portland-based OnPoint Community Credit Union.
PWA was recognized with the OnPoint Award for Financial Education Innovation for its commitment to providing financial education opportunities to youth.
This funding will help PWA integrate financial literacy into its career development programs, equipping Oregon's high school students with critical financial skills.
"Workforce readiness and financial education go hand-in-hand. Through this award, PWA will help young people access impactful career opportunities and support them in making wise financial decisions with their earnings. As a result, our community will benefit by having a financially empowered future workforce," said OnPoint Financial Wellness Manager Vincent Pollard. "OnPoint has been a proud partner of PWA for many years and we look forward to providing more financial education opportunities for students across Oregon."
The multi-year partnership builds financial education opportunities for Oregon's high school students
OnPoint has donated $22,500 over the past three years to fund PWA career development programs. The credit union has also sent 30 employee volunteers to schools and community events since 2021 to provide 130 service hours through mock employment interviews, mentorships, money management workshops, and career-readiness programs.
"We deeply appreciate OnPoint Community Credit Union's decision to invest in students and their families through Portland Workforce Alliance," said Executive Director Susan Nielsen. "We are already seeing the early impact of this investment, and we are excited for what is to come."
PWA works with local employers and educators to create experiences that help high school students, such as Parkrose High School senior Khanh My Tran, develop their career aspirations, build career skills, connect with industry professionals and work toward their college and career goals.
"I got a lot of different connections as well as resources," said Tran about her time exploring career dreams and building future plans through the PWA Youth Impact Council and the PWA Creative Careers Mentor Program. "It was also really fun."
PWA's mission is to build partnerships that improve Oregon's graduation rate, support career readiness, create a strong and inclusive workforce, and help regional employers develop and diversify their job candidate pool. PWA serves more than 7,500 high school youth every year in the Parkrose, Reynolds, Gresham-Barlow, Portland Public and North Clackamas school districts, and Oregon Charter Academy.
Posted in Oregon, Regional Member News.