Unitus Community Credit Union Celebrates New Branch Opening with 10-Year-Old CEO
November 3, 2023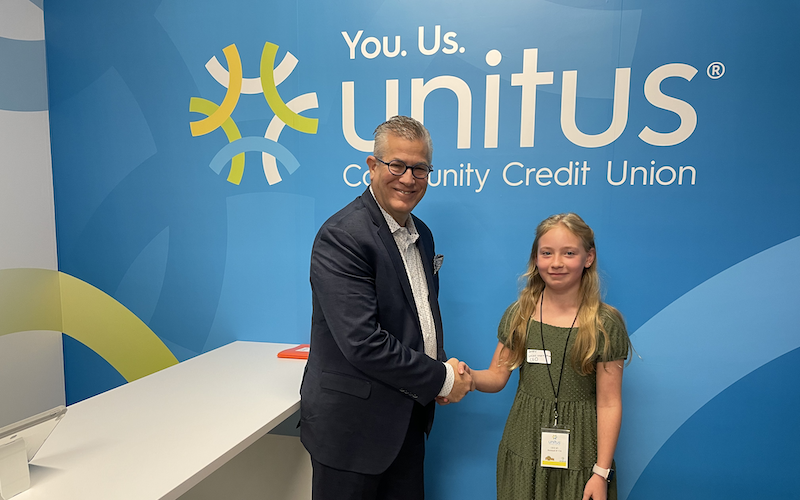 Unitus Community Credit Union, based in Portland, Oregon, recently announced it opened its newest branch at Junior Achievement of Oregon and SW Washington's BizTown in Southeast Portland.
Leading the organization through the grand opening was 10-year-old Jayln, a fifth-grade student at Columbia River Gorge Elementary School in Washougal, Washington. She serves as the first Unitus CEO at the new JA BizTown branch. 
JA BizTown provides students with a unique opportunity to experience their personal financial futures firsthand. Within a simulated economy, students embark on the challenge of starting and running a business. Through an in-class curriculum focused on the circular flow of the economy and citizenship, students are prepared for their roles within the various storefronts at JA BizTown.  
"As a credit union, we are dedicated to empowering individuals and communities through financial education," explained President and CEO of Unitus Community Credit Union Steven Stapp. "Our involvement in JA BizTown further solidifies this commitment and will expose students to the services that credit unions offer." 
Stapp met with Jalyn at the branch opening to offer some pointers on running the credit union. While she was certainly busy, she appreciated meeting with Unitus' real-life CEO. During her report to BizTown, she celebrated the financial decisions of the members of her community. 
"Many of you made the responsible choice of saving for your future. Thirty-five citizens opened savings accounts with Unitus. It was a pleasure to see these citizens of JA BizTown demonstrate good financial decisions. Thank you for choosing Unitus Community Credit Union. We are happy to serve our community at JA BizTown," announced Jayln. 
Unitus has been a proud partner of Junior Achievement since 2012, with employees regularly volunteering for Junior Achievement capstone programs, JA BizTown® and JA Finance Park®. These programs focus on entrepreneurship, personal financial education, and workforce readiness, aligning with Unitus' mission to promote financial education and empower future generations. 
Posted in Oregon, Regional Member News, Washington.