GoWest Solutions Trade Show Delivers: Saves Time, Money, and Hassle
Posted by Andrew Kobialka on October 31, 2023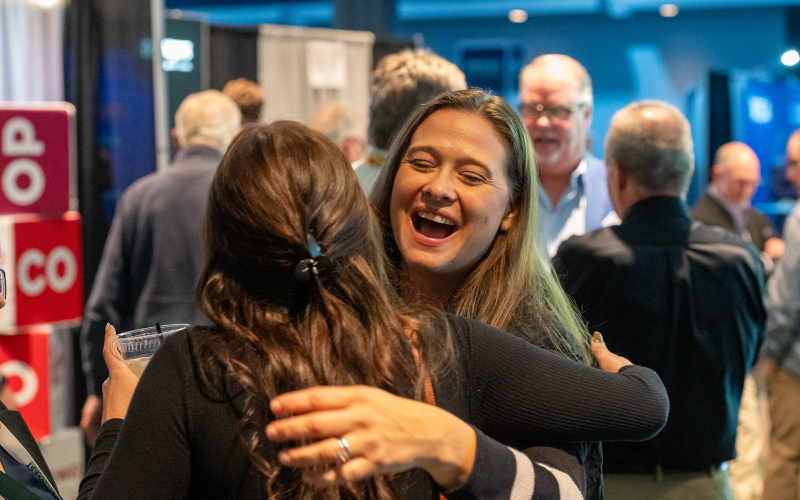 Thousands of dollars in gift cards, games, giveaways, and promotional items were all part of the fun at the MAXX 2023 Trade Show, but that was only the tip of the iceberg.
With over 140 exhibitors offering catered solutions for credit unions, the Trade Show was the one-stop shop for over 1,000 professionals to learn about the latest in cutting-edge services and partnerships. 
Tisha Held, Philanthropy and Foundation Manager at BECU, was a MAXX first-timer and shared the value of her experience. 

"It's a really great space for credit unions to come together for different organizations at various levels, to have an opportunity to see what else is going on in the industry, to see how other people are doing it, and to have access to all of these vendors in one space," Held said. "You don't have to do multiple phone calls or meetings — you can just go around and talk to everyone all at once. It's cost-effective, time-saving, and it's also a great place to gather knowledge and figure out where we want to go next."

Mark Daubert, VP of Sales and Business Development at Stratman Solutions gave MAXX a 10 out of 10. He raved about how the location, floor plan, breaks, and interaction with credit union members all contributed to an enjoyable experience.

"I've been to hundreds of shows like these," Daubert said. "This is hands down top shelf. People get out of breakout sessions and they come to talk to us. There's plenty of opportunity to cross-network with other vendors with relationship potential with us. It all helps the credit unions, them, and us. It's been outstanding." 

Some exhibitors are long-time attendees at the Trade Show. Balaji Rangachari, Vice President, Northwest Division Executive at Co-op Solutions, said the company has sponsored MAXX every year.
One of the biggest draws for him is the culture — he called it a tremendous opportunity.

"GoWest has set a high standard for credit union unity toward a common goal — sharing information, learning from each other, and educating each other," he said. "We're all one family, one big team. We come together for a common cause and that's why we're here." 

The collective feedback shows that MAXX Trade Show is both fun and highly cost-effective. For both credit union professionals and exhibitors, the opportunity to learn about the latest in products and services in the industry with a highly engaged audience creates a space that promotes curiosity, connection, and innovation.
If you are interested in learning more about the latest solutions for your credit union or want to be a part of the MAXX 2024 Trade Show reach out to the GoWest Solutions Team. While you're at it, plan out the rest of your 2024 opportunities – start HERE.
Posted in GoWest Solutions, MAXX Annual Convention, Top Headlines.