The First Arizona Credit Union Week Sets Tone for Credit Union Cooperation
Posted by Andrew Kobialka on October 24, 2023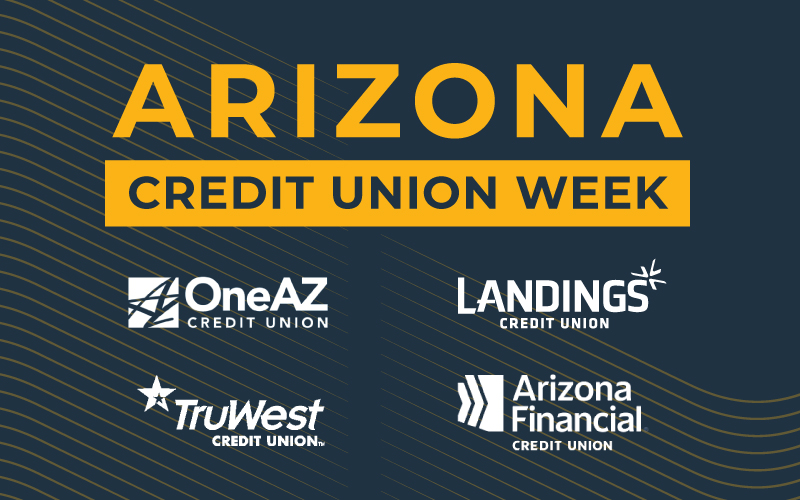 Arizona took action last week after four local credit unions — OneAZ Credit Union, Arizona Financial Credit Union, TruWest Credit Union, and Landing Credit Union — teamed up to host the first-ever Arizona Credit Union Week.
Highlighted in CUtoday, here is how these credit unions came together:
"This inaugural celebration will spotlight the multitude of ways credit unions empower financial independence, strengthen local economies, and serve as a force for good in neighborhoods and communities across Arizona," the credit unions said in a statement, adding they plan to team up for several days of activities that culminate with International Credit Union Day on Oct. 19.
Weeklong Activities 
The activities included:
Oct. 16: Myths & Memes (Overcoming misconceptions about credit unions)
Oct. 17: Local Battle: (CU's go head to head to promote "localness"
Oct. 18: Over the Top Impact: How CUs have gone "over the top" to help members and communities
Oct. 19: International Credit Union Day: All CUs celebrate 75 years
Oct. 20: CU Cash Crew teams head out in the community to member-owned businesses to cover the costs of goods/services of its patrons. Surprise stops announced throughout the day
OneAZ Credit Union President and CEO Brandon Michaels said, "It's showing the power of working together… Credit unions are such a big force in Arizona, but when compared to the banks – we're not. Why would we spend so much energy being competitive with other credit unions, when we can help elevate all credit unions?"
How it Started
Jason Paprocki, Executive Vice President and Chief Operating Officer at Arizona Financial Credit Union, and Liza Buchanan, SVP Marketing Operations at OneAZ Credit Union, were brainstorming different ways to collaborate to create some friendly buzz for credit unions among the community.
They looked at International Credit Union Day and realized they could use that as a springboard for a local event – AZ Credit Union Week.
As a pilot event, they decided to start with a small and diverse credit union group, with the intent to expand in future years if it was successful.
With only an $8,000 budget, they were able to hold five events and earn media coverage from national and local outlets like CUToday, CU broadcast, and Phoenix Business RadioX.
Their most successful event was CU Cash Crews, where credit unions staff would show up to local businesses and randomly pay for people's lunch, clothes and other items – all while sharing the credit union economic impact data that was provided to them by GoWest.
The goals of the event were to raise credit union awareness and overcome some of the confusion around the Credit Union Difference.
Arizona has a large banking presence. So after a successful week, Paprocki had one outstanding takeaway, "Credit unions don't have to wait for a special week to work together. Start talking to your local credit unions and make opportunities to work cooperatively."
Posted in Arizona, Top Headlines.