Gesa Credit Union's 'Day of Service' Assists More than 30 Local Organizations
October 17, 2023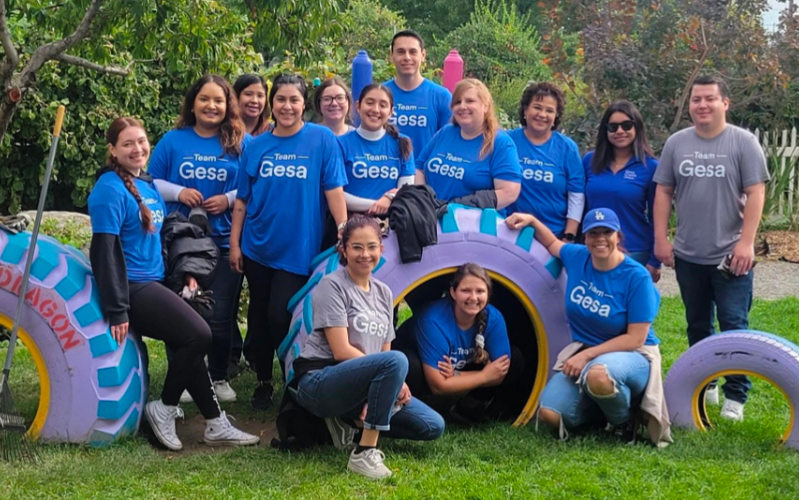 Gesa Credit Union, based in Richland, Washington, recently announced the sweeping impact of its second annual "Day of Service," an employee initiative that mobilized over 480 Gesa team members to give back to local communities.
On Indigenous Peoples' Day, celebrated Oct. 9, Gesa closed its 28 branches to allow its team members to spend the day volunteering. This decision enabled them to give back and make a significant difference in their communities. In total, 31 organizations across Washington benefitted from Gesa's extensive volunteer work.
A whopping 2,400+ hours were dedicated by Gesa team members across the state, who volunteered for a variety of organizations and nonprofits including senior centers, food banks, parks and recreation centers, community enrichment programs, education institutions, animal shelters, and more. Team members also wrote and delivered letters expressing their gratitude and appreciation for the dedicated efforts of our local heroes, including law enforcement, firefighters, veterans, educators, and healthcare workers.
"At Gesa, we are committed to empowering the communities we serve. We are honored to have partnered with these local organizations for our second annual Day of Service, as their invaluable contributions create a lasting positive impact across our state," said President and CEO of Gesa Credit Union Don Miller. "Our annual Day of Service project has easily become one of my favorite initiatives that we do here at Gesa. In the process of coming together to maximize our collective community impact, we're also enabling and empowering our team members to support organizations and causes that they are personally passionate about."
Volunteers helped at several locations. At Spokane Habitat for Humanity, a donation-based home improvement and goods store, they helped with tasks such as unpacking, pricing items, and arranging them on the floor for Christmas merchandising. At Rod's House in Yakima, they engaged in shopping and donating items as well as helping with facility cleanup. The team also participated in a Q&A to learn more about how this nonprofit organization supports and empowers young individuals. At Bella's Voice in Lynnwood, Gesa helped the nonprofit in person and online. Team members assisted with the register, merchandising, repackaging pet food, and social media for the organization.
Posted in Regional Member News, Washington.