Solarity Credit Union Sasquatch Campaign Supports Yakima Humane Society
October 13, 2023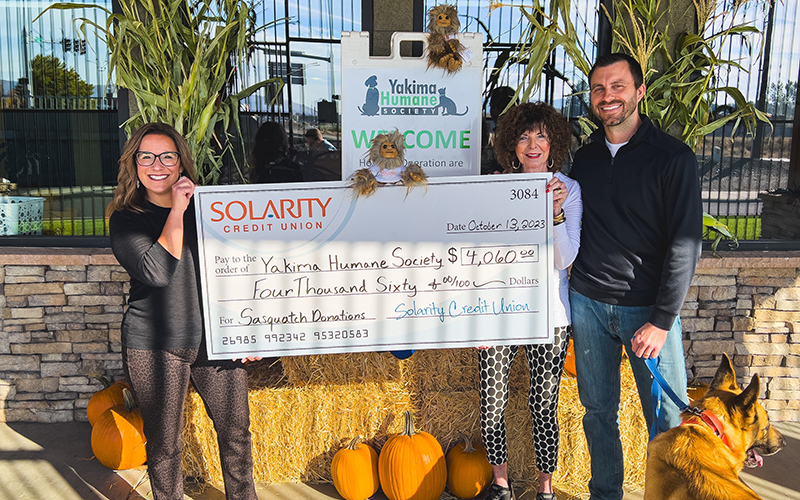 With hundreds of sasquatch sightings over the past few months, Solarity Credit Union raised more than $4,000 for its valued community partner, the Yakima Humane Society in Washington.
Throughout July, August, and September, members took home an adorable sasquatch stuffed animal for a $20 donation to YHS. Solarity's President and CEO Mina Worthington recently presented a check to YHS.
"We've had a lot of fun watching our members and staff get involved with this campaign," said Worthington. "We are happy, once again, to support the Yakima Humane Society."
The YHS shelter has been at capacity for some time. Donations help support their mission of ending animal suffering and cruelty, reducing animal overpopulation, and educating the community on responsible pet ownership. Hundreds of furry friends are still looking for their forever home, and Solarity is honored to do our small part to help these animals. Solarity, based in Yakima, has been a community partner with YHS for many years, donating more than $21,000 (including this most recent contribution) to support the organization since 2021.
"We are so appreciative of this generous donation. These funds will go a long way to helping us provide food and care for the over 150 animals that currently reside at our adoption center," said Jeff Boyd, Executive Director at YHS. "Our team has really enjoyed seeing the adorable stuffies around the community, knowing it's helping our animals."
Those who got a Solarity sasquatch were encouraged to take the little guy on their summer adventures and tag the credit union on any photos posted on social media. A Solarity sasquatch was also sent to everyone who financed an RV or boat with Solarity to celebrate summer and all the adventure ahead.
Posted in Regional Member News, Washington.