Inaugural 2023 GoWest Awards Announces Winners
Posted by Andrew Kobialka on October 10, 2023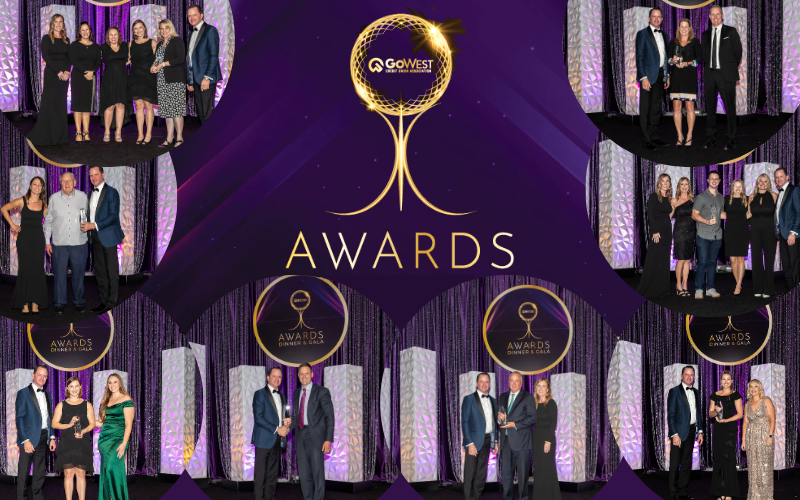 The night was filled with cheers, celebrations, heartfelt moments, and plenty of laughs at the GoWest Awards Dinner and Gala during the 2023 MAXX Signature Convention.  
As the first-ever GoWest Awards ceremony, hundreds of professionals from across the credit union community came together to celebrate the achievements of each winner. 
The GoWest Awards has 8 main categories – four to spotlight credit unions and four honoring individuals who have made significant contributions to the development and growth of the Credit Union Movement.  
"Congratulations to this year's winners!" said Troy Stang, President and CEO of GoWest. "This community continues to impress with its drive to be leaders who strive to build vibrant communities and inspire the ability to bring financial well-being to everyone. The impact these winners have made is truly changing lives and inspiring others to action.
The winners of the 2023 GoWest Awards are:  
Credit Union Winners
Employee Experience  
This award recognizes two credit unions that have intentionally built a culture of internal professional development by fostering a positive work environment, providing tools for growth, and encouraging and supporting career development. 
OCCU of Eugene, Oregon; 
and Canopy Credit Union of Spokane, Washington!  
Member Program  
This award recognizes a credit union that has developed an initiative, business model, program, or service that addresses the unique local, social, cultural, or economic needs that are specific to the credit union membership.  
Tucson Federal Credit Union from Arizona! 
Community Impact  
This award recognizes two credit unions that have demonstrated the value of their unique structure through a comprehensive approach to social and community impact throughout their institution.   
TruWest Credit Union from Tempe, Arizona; 
and Community Choice Credit Union from Commerce City, Colorado!
Cooperation in Action  
This award recognizes the efforts of two or more credit unions, a CU community, or credit union professionals from separate credit unions, working together in the spirit of cooperation and collaboration, which results in a much greater impact.  
Global Credit Union, BECU, Canopy Credit Union, Cheney Federal Credit Union, Gesa Credit Union, Horizon Credit Union, Idaho Central Credit Union, Numerica Credit Union, PrimeSource Credit Union, Progressions Credit Union, Responders Emergency Services Credit Union, Safeway Employees Federal Credit Union, Spokane City Credit Union, Spokane Firefighters Credit Union, Spokane Media, Federal Credit Union, STCU, and WSECU! 
Individual Winners
Distinguished Director of the Year – Mark Gisi from Premier Members Credit Union in Colorado. 
This award recognizes a credit union board member who demonstrates commitment and leadership in credit union advocacy, community service, and the ongoing success of their credit union.   
"I want to thank every director I worked with over 48 years in the Credit Union Movement. It is truly an honor – I love this group and I love credit unions," said Gisi. 
Gisi served as a chairman of his credit union, where he has been a member for over 20 years.  
He brought his keen sense of large-scale business experience to benefit the credit union as it grew organically while partnering with other organizations that shared a common vision.  
He was instrumental in supporting matching employee contributions to further promote and expand on the impact of employee engagement in the communities they serve, and remains very active within his credit union – attending grand openings, ribbon cuttings, community events and even volunteering. 
Young Professional of the Year – Laura Henry from OCCU 
This award recognizes a next-generation credit union leader who demonstrates commitment to credit union advocacy, community service, and excellence in credit union operations or team building with proven results.  
"I am incredibly passionate about everything we do for our employees, our members, and our communities and I am so honored to receive this award tonight," said Henry.
Henry has been involved in the credit union movement for ten years, participating in both legislative and grassroots capacities to further the credit union movement.  
She was a Young Professional Lead in 2016, which is when so also co-founded the Colorado Young Credit Union Professionals (YCUP). In 2019, she participated as the Young Professional Lead at the MAXX Conference. In 2022, she was a member of the Emerging Leaders program. 
While serving on the Board of the Willamette Chapter of GoWest she has cultivated working relationships with local nonprofits supporting numerous volunteer opportunities for members of the Chapter.  
She is also a champion of effective change management, utilizing her skills from her Prosci change management certification to support organization-wide projects and departmental restructures. 
Her contributions have allowed her credit union to provide the best experience possible to members. 
Summit Advocate – Rob Stuart, President and CEO of OnPoint Credit Union 
This award recognizes the outstanding achievement and accomplishments of a credit union professional who demonstrates commitment and leadership in credit union advocacy.   
"On behalf of all of the employees and our members at OnPoint, we are an organization based on a 'we culture' and together at OnPoint and with the many incredible partners at other credit unions throughout the state of Oregon, I do believe we are making a massive difference," said Stuart.
He's led his institution's growth from $1.8 billion to $8.8 billion in assets. In addition, his credit union's market share has grown from 15 to 25 percent in the last 10 years. 
Stuart has served as a long-time member of his state's GAC, including a tenure as co-chair. He is a member of the GoWest Defense Fund Committee and actively participates in more legislative meetings, advocacy events, and PAC donations than we could count.   
But what truly sets our winner apart is how his advocacy engagement and leadership show up amongst his credit union peers.  
"He understands the importance of credit union advocates presenting a united front, speaking with one voice, and advocating for what benefits the industry as a whole," said GoWest's EVP and Chief Advocacy Officer Jennifer Wagner. "And he's not shy about encouraging others to participate if he hasn't seen you in a while. Thank you for leading by example, Rob, and congratulations!" 
Summit Icon – Ezra Eckhardt, President and CEO of STCU 
This award recognizes a credit union professional who exemplifies outstanding overall and sustained leadership in the Credit Union Movement with respect to advocacy efforts, social responsibility, credit union philosophy, and community impact.  
"This is a huge privilege and honor, and really a reflection of our organization," said Eckhardt. "STCU is a very special place. For me, it's easy to jump out of bed in the morning because I know we're doing the right things and the credit union philosophy is something you can embody every day."
Eckhart is a significant leader in Washington state legislative affairs, serving three years as the co-chair of the Washington Governmental Affairs Committee during a period where the Movement advanced significant public policy initiatives.   
He goes the extra mile to connect with elected officials and build high-quality relationships, even with those who don't always agree with credit unions – going so far as traveling through a winter storm to meet with a legislator in a rural area over coffee.   
Eckhardt benefits the entire Credit Union Movement through his highly persuasive public testimony before lawmakers and encourages his team organization-wide to be engaged in advocacy and community affairs.  
Has been a key leader in the Spokane Land Bank conversation among credit unions and community partners, and remains passionate about solving local and bigger-picture housing issues that impact all Washingtonians. 
Congratulations to the winners of the GoWest Awards! 
What's next? Plan for 2024 today – browse GoWest's events and programming and get involved!
Posted in GoWest Association, News Releases, Top Headlines.