First Tech Federal Credit Union Expands Board of Directors
October 5, 2023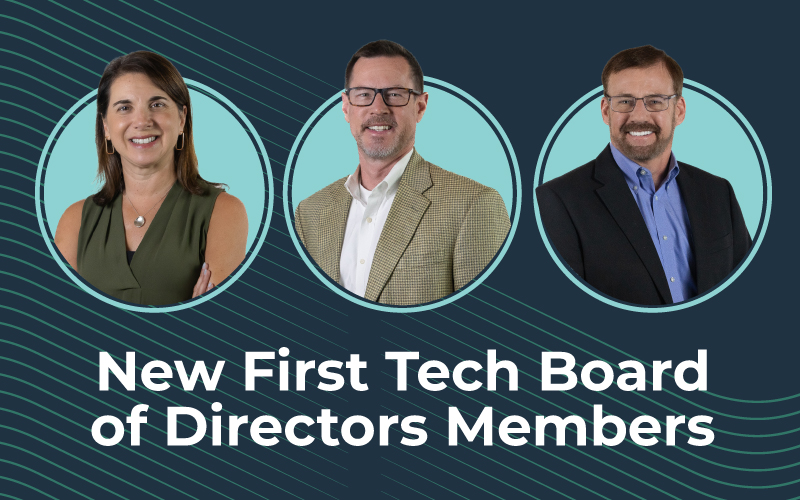 First Tech Federal Credit Union, based in Hillsboro, Oregon, recently announced that Margo Fowler, Vice President and Deputy General Counsel at Nike, Inc.; Dave Keenan, Senior Vice President at Fiserv; and Phil Roush, Chief Financial Officer at Crosspoint, have joined its Board of Directors.
The new board members bring critical leadership and expertise to support First Tech in delivering member-oriented financial services. Fowler contributes extensive legal knowledge managing commercial, intellectual property, marketing, product regulatory, and compliance and operations from more than two decades at Nike, Inc. Keenan brings strong commerce solutions and digital engagement experience and has directed member loyalty initiatives at leading companies. Roush delivers proven finance and accounting leadership expertise from supporting numerous Fortune 100 companies.
"We're thrilled to welcome Margo, Dave, and Phil to First Tech's Board. As highly respected business leaders, they each bring expertise and insights that will further advance our initiatives in serving our members, employees, and communities," said Jeff Hank, Chairman of First Tech Credit Union. "As First Tech continues to grow and innovate, their combined expertise in legal, finance, and member loyalty will enhance the mission of providing personalized member experiences and services."
About Margo Fowler 
Margo Fowler is the Vice President and Deputy General Counsel at Nike, Inc., where she leads the global legal team for Nike's Geographies and Marketplace and the Office of General Counsel's Strategy, Operations, and Legal Innovation teams. She has extensive legal experience and expertise in commercial, intellectual property, marketing, consumer, digital, product regulatory, compliance, and operations. Fowler has spent more than 20 years with Nike, holding prior roles as Vice President and Chief IP Officer, Vice President and Global Counsel, Brand Services and Compliance, and additional positions in brand and trademark. She graduated from Cornell University with a JD from The George Washington School of Law.
About Dave Keenan 
Dave Keenan is currently Senior Vice President at Fiserv, responsible for the strategic growth of Fiserv's payment network assets. He brings a deep knowledge of commerce solutions as well as member loyalty. Keenan's more than 40-year career includes leadership positions in both card products and member relations at MasterCard International, and a previous role directing the Mileage Plus program at United Airlines. He holds a BASc from Miami University.
About Phil Roush
Phil Roush is the Chief Financial Officer at Crosspoint, a privately owned real estate company based in Northern California. He has over 35 years of experience in Finance and Accounting, having held executive-level positions with PepsiCo, Cisco Systems, and SanDisk. Roush has served on the National Committee for Finance Executives International and has been in leadership roles with the Silicon Valley Chapter of the Institute of Internal Auditors. He graduated from Emporia State University with a degree in accounting and finance.
Posted in Oregon, Regional Member News.